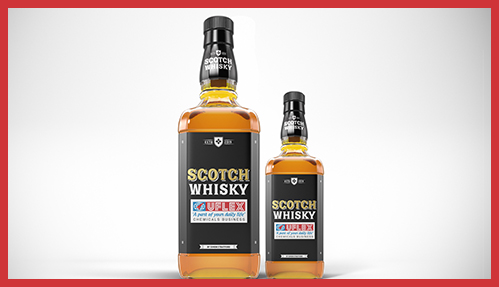 Noida: UFlex Limited, India's largest multinational and a global leader in polymer sciences continues to take steps to reach closer to its customer base. The company has commissioned its BOPET film manufacturing plant in the Ogun State of Nigeria with a production capacity of 45,000 TPA. Spread over 37 acres, the plant houses first-of-its-kind 10.6 meter wide BOPET film line in Africa and also has two Metallizers with a total production of 15000 TPA. The plant that created over 200 direct jobs, is set to cater to the packaging film demand coming from the fast growing economy of Nigeria, ECOWAS (Western Africa) and USA.
In the quarter July-August-September 2021, UFlex also added a fleet of new value-added products & solutions products to its portfolio that not just help its customers' products stand out on the retail shelves but also helps brands extend an overall elevated packaging and consumption experience.
Flexible Packaging Business
High Barrier Mono-material Recyclable Bag for Snack Packaging for KIMS – Snacks form a quick bite to keep on-the-go hunger at bay and its packaging undergoes frequent changes to retain consumer interest and make it convenient for them. In order to make the brands stay relevant as well as sustainable in the snacks segment, the flexible packaging business of UFlex has developed a heavy-duty mono-material bag for Danish brand KIMS for its snacks packaging segment for the European market. The high-barrier packaging is made of mono-material under polypropylene extreme and bears recyclable 'logo 5' mark enabling easy recycling in the existing polypropylene recycling streams while ensuring that the snack packed remains fresh as ever. These snack packs are being used by KIMS to pack food products such as chips, wafers etc.
MOPE based Mono-polymer Recyclable Bag for Large Quantity Rice Packaging for EBRO - UFlex has developed a new MOPE/PE recyclable structure with registered matt coating and special PE mono-Polymer based laminate film for EBRO rice brand Peacock. The newly developed structure for rice packaging possesses similar mechanical and other properties allowing easy recyclability of PE in conventional extruder and can be easily run on existing packaging line with minor adjustments. This development has cleared all tests related to handling, post filling of the pack content, and has successfully fulfilled required barrier properties throughout the defined shelf life of the packed rice thus positioning itself as a suitable packaging application for large quantities.
50% Higher Barrier PET Film Structure for Asal Coin Parota – Frozen food segment has experienced a steady growth since the pandemic as people have been gravitating towards foods with longer shelf lives. Frozen and refrigerated food needs a special barrier structure to pack the food content such that it doesn't lose it integrity even months after opening it. Customising the requirement for the brand Milky Mist, UFlex has developed a three-side sealed pouch packaging structure to pack Asal Coin Parota through use of a special high barrier PET film that increases the barrier properties by 50% under ambient conditions and allows the parota to stay fresh for a longer duration.
Value added Packaging in Two Sizes for Fidele Pet Food – For most pet food buyers, what drives consumers decision is a host of factors including convenience, portability and ergonomics; product safety and freshness; transparency in product descriptions and clean labels; sustainability and recycling; and above all getting best value for their money. With this in focus, UFlex has developed two packaging sizes of 3kg and 12kg to pack pet food for the brand Fidele. Its packaging structure comprises of specialized Matt finished PET polyester and its pocket slider allows reclose-ability thereby adding to consumer's convenience. The side gusset handle in the 3kg variant helps easy carrying and pouring whereas the 12kg variant comes with bottom pinch pasting allowing multi-dimensional display thus helping the brand to leverage as much branding opportunity as it can and make it stand out on the retail shelves.
Transparent High-barrier Laminate Sachet to Pack Dairy Whitener for Namaste India Foods – Dairy whiteners have seen much use to prepare tea or coffee instantly in home kitchens of nuclear family and also works as an excellent milk substitute for working couples who may not have the time to buy fresh milk and prepare tea or coffee at odd hours. To enhance the ease attached with use of dairy whitener, UFlex has manufactured a transparent high-barrier laminate to pack 26gms of Gold Standard Dairy Whitener for Namaste India Foods. The packaging structure allows the brand owner to showcase the product through a see-through window and at the same time provide the barrier required for packaged dairy whitener.
Cylinders Business
1) Flexo KodakNX Printing Plates for Improved Print Quality – The Cylinders business has started in-house manufacturing of Flexo KodakNX printing plates that are popular worldwide owing to their excellent print quality. Flexo KodakNX printing plates are the preferred choice for flexo printing jobs due to laser square spot exposure technology. Its perfect flat top dots with no oxidation of polymer helps printers achieve higher consistency for printing applications. These plates complement with a variety of inks including water-based inks and solvent-free inks; and allows easy printing on all types of substrates. It is due to its print efficiency and compatibility with sustainable inks that the converters, printers and brand owners are able to enjoy supreme quality print impression while simultaneously stepping closer to their sustainability goals.
Holography Business
PVC Sparkle Glitter Film for Photo Album – Memories for lifetime should be treasured with utmost fondness. In order to elevate the overall experience of placing photographs in a photo album, the holography business has developed a technology in which a special grade film is infused to create glitter effects on the photo album. This application is by far the best alternative used for photo album applications and outperforms the conventional photo albums with its premium and attractive finish.
Packaging Films Business
Ultra-High Barrier and High Metal Bond Metallized Polyester Film F-UHB- M for Aluminium Foil Replacement – Flex Films USA launched its patented BOPET high barrier film F-UHB-M, designed to replace aluminium foil in flexible packaging applications. F-UHB-M addresses challenges of the Converting Industry that has relied for long on aluminium foil for packaging despite several of its limitations including material availability, high material cost, weak integrity, propensity for in-use pinhole formation and difficulty in recycling. With its new specially formulated BOPET structure, F-UHB-M comes with superior gas and water barrier while achieving one of the lowest oxygen and moisture barrier values (0.1 cc/ m2-day & 0.1 gm/m2-day respectively) and industry-leading metal adhesion of 1200 gm/25mm that aids improvement and extension of product shelf-life. F-UHB-M helps Converting industry move from a 'difficult to recycle 4-ply laminate structure with aluminum foil' to a 'much simpler, easily recyclable 3-ply laminate structure comprising of F-UHB-M film' without compromising on barrier performance, thus helping the customer achieve reduced laminate weight and lesser cost with minimized carbon footprint.
Chemicals Business
Flexbond WB White Adhesive for Food & Non-Food Packaging Applications- Flexbond WB White Adhesive is a water-based white adhesive designed for flexible film and paper laminates used in food and non-food packaging applications. Flexbond WB provides excellent opacity and bond strength in paper to film as well as film to film laminates. Since white color holds a significant importance for printing applications, this product is highly recommended for production of laminates having higher proportion of white print area as compared to other colors thereby substantially reducing the use of white ink and processing cost of printing inks.
Flexgreen Laminating Adhesive 'HRK09990': UV LED technologies are witnessing a significant progression into the future of printing industry. Flexgreen series UV Flexo Adhesives are formulated for high-end label and tag printing applications. HRK09990 has excellent rheology characteristics of smooth flow and non-stickiness, thereby making it ideal for most printing equipments and various product applications in the label industry. This has been specially formulated for use with UV LED curing lamps of wavelength 385-395nm.
Flexcure Opaque White Ink for Shrink Sleeve Application: In the fight for attention on retail shelves of supermarkets, shrink sleeves are playing an anchor role by offering 360o coverage of graphics on a product container, allowing more display area for the brand owner to print its message. Flexcure White Ink is specially designed to meet the demand of Flexo White Ink shrink sleeve applications. It is a UV cure ink and provides consistent cure at the highest speed, imparts good adhesion and post shrink performance on shrink substrates. It offers excellent printability and transfer with finer aniloxes.
Engineering Business
Trim Rewinder 'Trim Line 1000' for Slitting Jobs – Ever since the outbreak of pandemic, the requirement of packaging film has been witnessing elevated demand which has also triggered demand for slitters and Trim Rewinders. The Engineering business of UFlex has developed a Trim Rewinder model 'Trim line 1000' which is an extended portfolio to the community of range of slitters it offers. Its robust speed of 1000 mpm has been appreciated by its patrons and has already bagged two orders. Not only has the rewinder been perceived as an add-on machine with new slitters but also has the capability of retrofitting, i.e., it can be easily added to conventional slitters as well. This machine marks a step towards recycling of trimming in an organized method.
Pre-formed Pouch Making Machine for Arresting Counterfeiting & Enhancing Aesthetics- To arrest the challenges of counterfeiting amongst brands in various sectors, Engineering business of UFlex has developed a new series of pouch making machines that integrates holographic strip within the pre-printed film with 100% 'i mark to i mark' registration accuracy. Besides addressing the challenge of counterfeiting via i-mark registration, the machine's D-motion sealing technology provides enhanced dwell time for sealing thus improving aesthetics and seal integrity allowing repeat use. Thus, the machine renders double fold benefits to brand owners - of counterfeiting as well as enjoying the holographic attributes that enhance the overall look and feel of the product to make their product stand out on retail shelves.
For more details, click on: www.uflexltd.com.