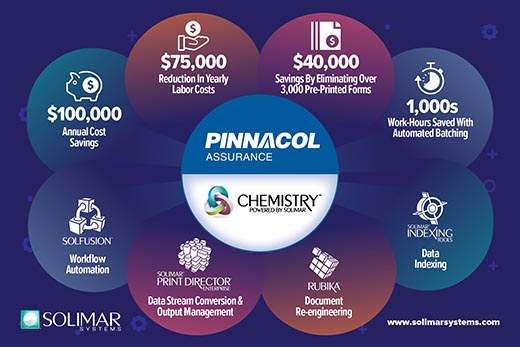 Pinnacol Assurance has leveraged the Solimar® Chemistry™ platform to deliver huge cost savings and production efficiencies.
Solimar Systems, Inc., provider of leading workflow solutions for print production and digital communications, has delivered sizable cost savings, substantial production efficiencies with automated processes, and increased job volume capacity for Pinnacol Assurance.
Pinnacol, Colorado's largest workers compensation insurance carrier, has leveraged the Solimar® Chemistry™ platform, including the Solimar® Print Director™ Enterprise (SPDE) and Rubika® solutions, to automate recurring and repeatable workflow processes that drive production efficiencies. As a result, Pinnacol increased its productivity, reduced many manual processes and added significant value to their bottom line. These workflow efficiencies reduce their yearly operational labor costs by $75,000, eliminating $40,000 in pre-printed forms and enabling over $100,000 in annual cost savings.
When Pinnacol acquired a production inkjet press, they needed a workflow solution to enable PCL data stream transformation to PDF, add barcodes to leverage finishing technology automation, and eliminate pre-printed forms.
"One of our principal challenges was to reduce manual operations from our workflows wherever we could to become more efficient," said Craig Coley, Director of Corporate Services at Pinnacol Assurance. "Increased automation would also reduce the risks associated with incorrect document delivery, a crucial aspect of handling worker's compensation communications and confidential mailings. We analyzed our current production workflows to identify areas for improvement and quickly concluded that Solimar's solution would help us achieve the goals we set."
Pinnacol communicates with many parties in the insurance industry, developing, distributing, and mailing policies, letters, invoices, bills, and other types of regulated communication to its clients. Before the company acquired its new inkjet device, it used cut-sheet printers with pre-printed shells to support a portion of its outbound communications. By implementing Rubika, the company eliminated over 3,000 pre-printed shells and converted them to digital overlays, underlays, and digital content.
Pinnacol now operates a highly functional white paper factory. The company digitally manages their production processes. The composed files connect to in-line print production and intelligent insertion using Rubika-generated barcodes. SPDE provides sophisticated print control and job management. The system also performs powerful print transforms to automatically convert data streams and resources for any of Pinnacol's target devices, enabling PDF-centric job processing and printing.
Coley shared, "Prior to the Rubika implementation, we had to manually sort our printed letters by page counts and then run them through a folder/inserter. By leveraging templates and automation, we achieved substantial time and cost savings, including the removal of labor-intensive processes and the headaches of inventory management. Rubika applies barcodes to the letters, which eliminates the manual sorting processes while enabling the finishing equipment to accurately sort each job. It also improved our verification of outgoing documents and therefore, reduced the risks associated with incorrect document delivery. We must be a trusted source when handling personal data, and Rubika has further enhanced our accuracy, overall protection, and reputation."
Mary Ann Rowan, Chief Experience Officer at Solimar Systems, is delighted with the results Pinnacol Assurance has experienced. Rowan explained, "The Chemistry Platform has an intuitive interface that enables rapid implementation of templatized workflows." Rowan adds, "We're grateful to have Pinnacol Assurance as a long-time customer and Craig Coley as the representative member of the Solimar Customer Advisory Council."
Read more about Pinnacol Assurance's improved workflow processes here: https://www.solimarsystems.com/case-studies/automation-pdf-workflows-drive-powerful-benefits-at-pinnacol-assurance/