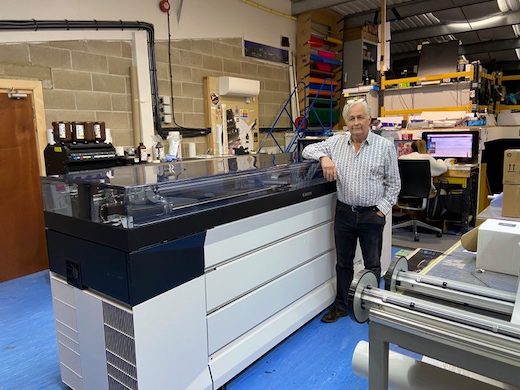 Unique printer benefits handle increased demand and offer enhanced quality output
CMYUK, Shrewsbury – RuttersUK has installed a Canon Colorado 1650 from CMYUK. Ongoing growth has driven the need for this investment as the Cambridge-based business keeps pace with increased demand.
Rutters is a family business with a history that can be traced back 68 years to the days of large format photographic printing. It offers a 'one stop shop' service for all signage and portable display requirements and provides expert advice on all aspects of a project from creation, production, fabrication to installation.
Specialist digital print areas include wallpapers, carpets, construction hoardings, building wraps, and backdrops for the entertainment industry, where it has a global reputation for its 'day to night' translights that bring a new level of practical efficiency to film production.
"As a business we are expanding and we had the need to invest in a new printer due to an increase in demand for our services," says Paul Rutter, MD, RuttersUK .
The company evaluated several printers including HP Latex technology with white ink but opted for the Canon Colorado 1650.
"Our ever-increasing workloads, particularly in the fields for what the Colorado is renowned for meant that its capabilities were best suited to our expanding needs," says Paul. "It offered more advantages than its competitors including a matt and gloss print option."
Canon Colorado USP
The Canon Colorado 1650 uses Canon's UV-gel technology ink, and is perfect for wallcoverings amongst other applications. Inks offer precise controlled dot placement with no dot gain, ensuring consistent repeatable images over time. A wide colour gamut provides consistent high quality colour sharp details and strong saturation for dark colours. UVgel inks are also scratch and scruff resistant.
Another feature that Rutters really appreciates about the Colorado is its exact positioning, which enables perfect registration for double-sided printing.
The Colorado 1650 also incorporates FLXfinish, a new approach to LED curing which allows the user to choose between matt or gloss modes for each individual print to achieve different aesthetic finishes, without the need to change inks or media. A gloss finish gives visual impact to applications such as banners and posters, while a matt appearance is particularly appealing for high quality indoor applications viewed in artificial light, such as wall coverings or premium instore Point-Of-Sale (POS) materials.
"It also allows us to offer shorter lead-times and a higher productivity with a vast array of colours," says Paul.
CMYUK production partner
Rutters purchased the Colorado 1650 through CMYUK. "We have had a 10 year exceptionally close relationship with CMYUK. It's a very helpful company with an exceptional showroom. We always go to CMYUK when we have an equipment requirement. The purchase, installation and training was just a great experience."
As the future is concerned, Rutters wants to maintain its strong work ethic and develop new client relationships, whilst focusing on new product development, and utilising the Colorado to the full extent of its capabilities.