- Celebrating the excellence in eco-responsible design & initiatives across the world -
The global online platform for eco-designed solutions BEYONDPLASTIC.NET announces the winners of the 2021 BEYOND PLASTIC AWARD.
The Award's motto is: Let us design and create eco-responsible products and solutions and reduce single-use plastic. Let us start a material and packaging renaissance!
The Award honors the innovation and creativity in sustainable design in four categories: I. Most practical impact to reduce the use of plastics, II. Most innovative approach, III. Most beautiful solution and IV. Best Initiative in Education / Journalism / Campaigning. For each category there is a Gold, Silver and Bronze Award with cash prizes of 7,000 Euros in total.
The Award is directed towards students, designers, engineers, makers, creators, inventors, artists: Everyone who has an idea, concept, project, prototype or even a solution already in market which supports less single-use plastic is welcome to take part. It can either be an ent- ry which replaces an existing environmentally non- responsible product / package or it can be a completely new solution. The entries are judged and selected by a expert jury panel.
Details about the Award can be found at: www.beyondplastic.net/award.
BEYONDPLASTIC.NET is a global initiative dedicated to reduce the use of single-use plastic products in order to decrease plastic pollution which is littering landmass, entering water streams and presenting an increasing risk to human and environmental health worldwide. It was launched in 2019 as an politically and commercially independent online platform for en-vironmentalists, packaging designers & engineers and companies to present and exchange ideas, concepts and products of eco-responsible solutions replacing plastic packages. It is initiated by Ulrich Krzyminski - entrepreneur, engineer & inventor - who has an industry in- sight in the printing & packaging industry.
For further information please contact us at [email protected].
Most Innovative Approach on our goal to reduce plastics
Device for the Removal of Microplastics from Water
by Fionn Ferreira, Netherlands
Most Practical Impact
Peel Pressure Made Us Do It
by Caracara Collective, Finland
Most Beautiful Solution
Eggshell Ceramic
by Laura van de Wijdeven, Netherlands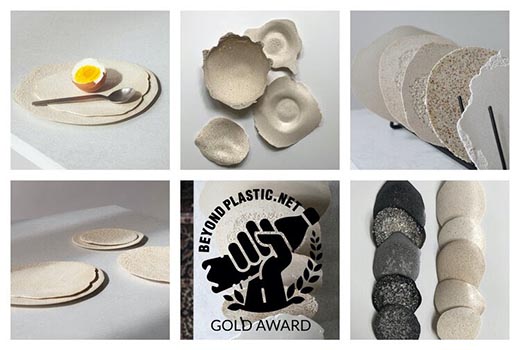 Best Initiative
Circuteria - Let's go circular
by Gesa Schneider & Sebastian Stolzenberg, Germany