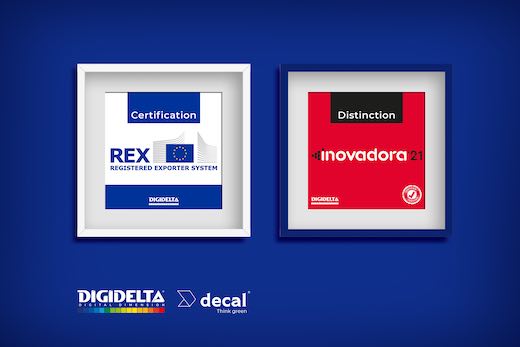 Digidelta, the company responsible for the brand decal, has received the reputation seal "Estatuto INOVADORA COTEC 2021" and became part of the REX System. Two new statutes that reinforce the position of the Portuguese group and its brand of self-adhesive products in the areas of innovation and of European exports.
Obtaining "Estatuto INOVADORA COTEC 2021" (COTEC 2021 INNOVATIVE Statute), created this year by COTEC Portugal, places Digidelta in the rating that assesses the innovation of Portuguese SMEs and how this translates into robustness of treasury and management capacity.
This same innovation is also present in decal ranges, such as PVC Free products and monomeric and polymeric vinyls for printing and laminating in visual communication applications (carwrapping, glass decor and microbial free), interior decoration (wallcover and alldecor2d textures) and labeling (inkjet label specialist).
The assessment is based on the metrics of the partner financial institutions of that business association in the initiative, such as the volume of the business, the exports and R&D (Research & Development) processes.
In addition, registration in the REX System (Registered Exporter System) by the Tax and Customs Authority allows exporters (producers or traders of original products) and reshippers to issue their own certificates in the commercial documents.
This system of certification of origin of goods has been in force since 2017 and collects in a database companies established in the European Union, which are exempt from customs duties and quotas in trade in products from that territory.
In decal´s case, this certification of Digidelta is added to those that the brand already has on products developed from European raw materials with attested quality. Among them are those which certify fire-resistance, anti-slip, anti-microbial and chemical control (REACH and RoHs).