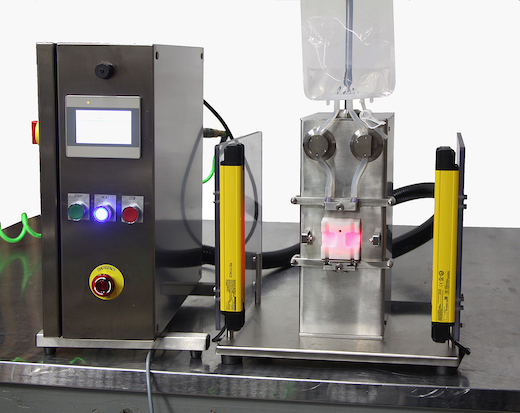 Equipment specialist also will exhibit new benchtop syringe filler ideal for compounding pharmacies
Mount Vernon, NY – TurboFil Packaging Machines LLC, an equipment specialist dedicated solely to the design and development of liquid filling and assembly machines, will showcase two of its latest, most innovative syringe fillers at INTERPHEX NYC Booth #1945, October 17-19. In addition, representatives will be on hand to discuss a recent partnership with UK-based end-of-line and packaging equipment manufacturer Sewtec, for whom TurboFil is now the exclusive Eastern & Central US sales and service provider.
Among TurboFil's offerings at this year's show is a module for automated, simplified production of a wide range of syringe formats. Employing a versatile yet precise setup that accurately fills syringes via ceramic piston, peristaltic pump or direct draw from a reservoir bag, the company's SimpliFil Syringe Filling & Assembly System is suitable for small to medium batches.
SimpliFil is designed for ease of use: its signature highlight is a walking beam indexing configuration, which provides intuitive operation and simplified, recipe-based changeover. For heightened precision, TurboFil's unique TipFil™ technology allows syringes to be filled through the tip – a step-saving innovation eliminating the need to insert plungers post-filling.
Filling up to 36 syringes per minute, the SimpliFil system smoothly handles syringes with tips outfitted for press-on caps and luer caps, as well as various safety caps recently incorporated for oral syringes. For post-capping marking applications, TurboFil also offers an optional labeler that can wrap syringes with pre-printed labels or, for medications requiring variable marking, print individual labels per uploaded input. An automatic syringe loading system also is available, as is a volume and vision system for fill and label matching verification.
Also at INTERPHEX, TurboFil will showcase its recently introduced benchtop syringe filling machine providing a step up from manual operations. Offering full control of filling parameters in single or dual operation, the TipFil™ Syringe Filler provides accurate, consistent fills at up to 12 pieces per minute. The unit utilizes a piston mechanism that draws back the plunger, with the distance the plunger is pulled back dictating the amount of drug filled. Among other benefits, this eliminates the need to clean a metering device. For premium accuracy, the plunger motion is driven by a servo motor for precise, repeatable product filling.
Among the TipFil™ Syringe Filler's key attributes is its versatility: the unit can accommodate a wide variety of syringe sizes and product types, and perform through-the-tip filling for liquids or viscous products in a variety of typical infeed scenarios – including hoppers and reservoirs, and an optional attachment for filling via bottles and vials. Suckback control helps ensure heightened fill accuracy, and all product contact parts are fully disposable, single-use plastic.
Fill volumes are electronically adjustable via HMI, and a priming function – also programmed via HMI – efficiently facilitates air bubble removal. Recipes for various product and fill volumes are accessible by an optional barcode scanner, and validation packages also are available. Once a filling cycle is complete, the TipFil™ Syringe Filler retracts syringes to their starting position so the operator can remove and replace them with new ones.