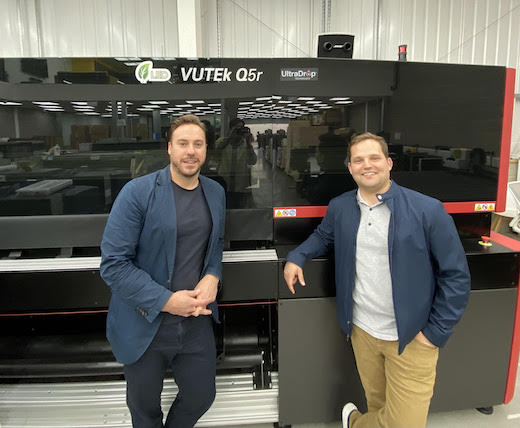 (L) Dane Hamer, Marketing Director and Matt Dahan, founder at parrotprint.com
New high-speed, high-quality 5m UV LED roll-to-roll printer set to enhance current and future production demand
CMYUK, Shrewsbury – UK-based tech start-up parrotprint.com has invested in an EFI VUTEk Q5r digital printer from CMYUK, making it the first tech brand in Europe to install the latest 5m roll-to-roll UV LED printer launched by EFI in January this year.
Offering the ultimate in print quality for the highest volume output at the lowest cost of production, this is the perfect vehicle for parrotprint.com, a personalised internet print service, fast registering on the dial as the most affordable, highest quality and fastest printer operating in the digital economy.
"The EFI VUTEk Q5r enhances our current and future production demands, enabling us to continue to offer our unbeatable, next day delivery promises, whilst retaining market-leading print quality, as we continue to see rapid growth and scale parrotprint.com to new markets," says Marketing Director, Dane Hamer.
Smart tech for superior results
parrotprint.com offers a service whereby customers can print any picture from anywhere in the world and have it delivered the next day. It was launched in March this year, founded by passionate photographers and entrepreneurs with a track record of building successful ventures.
"As photographers in a previous life, we were unhappy with the quality produced by similar companies. Often seeing heavily pixelated or chopped prints, we saw the need for a more affordable premium service run by a knowledgeable and passionate team," says company founder, Matt Dahan.
Matt did the maths and developed the code to produce an Automatic Photo Quality Detection algorithm. This screens the quality of an image using an algebraic formula to determine a photo's pixel density, on the fly. So, if a user is cropping their image, using the crop tool, it automatically calculates and assesses the image quality to ensure optimal print results. The company's development teams' state-of-the-art imaging software uses AI that checks and auto-corrects the creation and production workflow process to simplify the user experience and guarantee accurate and high-quality prints.
All parrotprint.com products are printed on premium quality, heavyweight, museum archival grade canvas, suitable for fine art photography reproduction and allowing for incredible detail with vibrant colours.
Add highly competitive pricing, speed, and ease of use to the mix, parrotprint.com offers a service unlike any other.
"No one can beat us on price," comments Marketing Director, Dane. "Some brands advertise their price, but it doesn't include next day delivery as standard. All in for size, delivery, hanging etc., no one can beat us on cost. We guarantee best prices. In fact, we're the only printing company that can get you your personalised print delivered next day, as standard."
CMYUK and EFI
parrotprint.com needed the best equipment to support its vision and ambition. The company evaluated several printers including the Fujifilm Acuity Ultra R2 and HP Latex 3600, but in the end went for the VUTEk Q5r because, says Dane, "It has market leading production speeds that no other vetted printer can match, along with meeting our strict requirements for quality and running costs."
The company had purchased production equipment from CMYUK in the past and was very familiar with the latter's level of customer support and service. The experience of purchasing the Q5r has been no different. "The support received from CMYUK has been second to none throughout the entire process – from the sample prints that we had requested, test prints at various pass rates, and the ink usage files for each test run. The training team were experts in their fields and provided great tutorage and Q & A to our production team. After sales support has been fantastic, with instant response, and engineers looking for solutions to software matters," says Matt.
EFI VUTEk Q5r
The fastest, most productive roll-to-roll display graphics printers in their class, the 5m VUTEk Q5r printer runs at speeds up to 672 square meters) per hour. It features up to nine ink colours (standard CMYK and optional lc, lm, lk, white and clear coat), enabling exact customisation of each printer to application requirements. It also boasts EFI UltraDrop Technology, featuring native 7-picoliter printheads with multi-drop addressability for high-definition image quality. Users gain outstanding smoothness in shadows, gradients, and transitions, as well as precise and sharp 3-point size text with a true resolution of up to 1,200 dots per inch.
UV LED curing ensures not only cost savings but also a more environmentally friendly printing solution, consuming less energy and enabling the use of thinner, heat-sensitive substrates.
The Q5r also features EFI's Power Tool options for advanced productivity capabilities, including in-line quality inspection, in-line slitting and cutting, roll and tape collection, auto-calibration, automated backlit printing, automated blockout printing and more.
Into the future
The company is looking to expand the parrotprint.com offering into high quality premium framed gallery prints, posters, wall art and has plans to build an online marketplace expressly for photographers, setting new standards of e-commerce for both buyers and sellers.
With a vision to be the Internet brand leader in print, the company is actively pushing into new markets over the next 12 months. Says Dane, "The VUTEk Q5r is instrumental in our ability to offer the fastest turnarounds and delivery times in our sector, whilst vastly reducing operational costs. It's an incredible printer with excellent capabilities and we're the first in Europe to have one. It will really drive the brand forward."