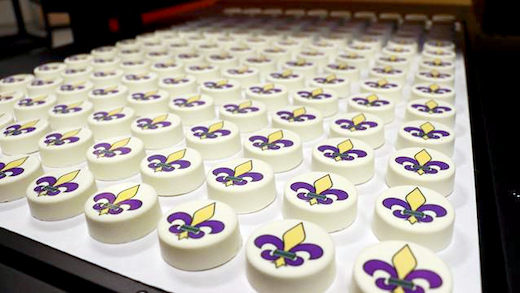 Lafayette, La. — LogoJET, a UV printer manufacturer headquartered in Lafayette, La., is proud to announce that the FSR90 Edible Ink printer received a coveted PRINTING United Alliance 2021 Pinnacle Product Award for RTR/hybrid/flatbed new technology. The winning entry can be found online at the Pinnacle Product Awards Gallery here.
Open to all PRINTING United Alliance supplier members, the Pinnacle Product Award competition evaluates products that are, or will be, available for sale in 2021. A highly qualified panel of judges from across the printing industry evaluated the annual contest's 160+ entries in more than 58 categories spanning analog, digital, output and non-output technologies.
"After two years of research, development, and pre-production work alongside great beta-testing partners, it is exciting to see this product line being embraced by the industry. It is truly an honor to be recognized by Printing United for our innovations in edible inkjet technology," said Lon Riley, Vice President and COO of LogoJET. "Receiving validation from the industry on our continued efforts in the food space is extremely rewarding. We have put together a true production platform that marries higher capacities with the exceptional print quality LogoJET is already known for."
In 16 years, Susan Cox, LogoJET founder and CEO, has built the company into one of the fastest growing businesses in the state. The LogoJET FSR90 printer offers full-color personalization with food-grade inks on edible items — with a 24" x 36" printable area, and 6" product height clearance. This model is designed for continuous production for medium-to-large shops that produce higher volume customized edible products.
"The Pinnacle Product Award competition represents the best of the best among commercial hardware, software, consumables, and industrial and screen equipment," said Ray Weiss, Director of Digital Print Programs, PRINTING United Alliance "Congratulations to all the winners."
For more information, or to schedule a personalized virtual demonstration, or to schedule a visit to see LogoJET's printers at one of their locations visit logojet.com.