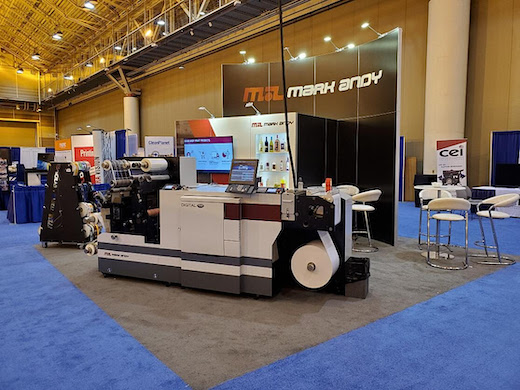 Mark Andy Digital One at FTA INFOFLEX in 2019
St. Louis, Missouri – Mark Andy Inc has announced it will be exhibiting at INFOFLEX at Fall Conference, taking place live and in-person October 4-5 at the Embassy Suites by Hilton Dallas Frisco Hotel & Convention Center in Frisco, TX.

Visitors to the Mark Andy Inc booth can speak with our technical experts, who will be on-hand to talk one-on-one, detail our range of products and solutions, and offer personalized answers to packaging questions. There will be more time and more space to network, as INFOFLEX at Fall Conference brings expanded booths and additional show hours.

"Mark Andy is excited to have a team present to both listen and learn during the technical presentations at FTA's Fall Conference, but also get back to one of our favorite aspects of the label and packaging industry, and that is interacting with our customers face-to-face," explained Christine Topp, Marketing Event Specialist, Mark Andy.

INFOFLEX at Fall Conference is also part of FTA's Fall Conference 2021—the first live conference and exhibition for the entire flexographic industry in two years. When attendees aren't visiting our booth, they can attend more than 20 technical presentations, where industry experts will show how every flexographer's workflow has evolved, how to do your job better and how to build a path forward.

"Not since 2019 have package printers and converters connected with suppliers at an in-person FTA event. The combination of pent-up demand and two years' worth of next-generation technologies makes INFOFLEX at Fall Conference must-attend," said Jay Kaible, FTA director of membership and business development. "We look forward to a return to the face-to-face connection that this industry is known for."

Find more about our booth and register to attend at https://fallconference.flexography.org/exhibitors/mark-andy-inc/.