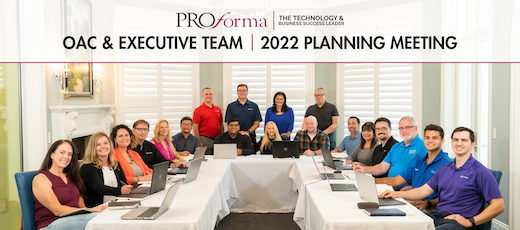 TAMPA, FL – Proforma's Owner Advisory Council (OAC), recently held its annual planning meeting with Proforma's top Executive Team Members. Every year, the Proforma OAC members are elected by their fellow Affiliate Owners in their North American geographical area.
Every month, the OAC meets with the Proforma Executive Team virtually. Additionally, every year, Proforma's OAC and Proforma Executive Team Members meet in person to set the goals and initiatives that will drive the continued growth of the organization through the upcoming year and beyond. The OAC represents the voice of all Affiliate Owners in their geographical area.

"Proforma's annual planning meeting sets our course for the year ahead," said Vera Muzzillo, CEO of Proforma. "We are excited about the meaningful conversations that we were able to have in these intimate meetings to discuss new ways we can grow together. We have significantly ramped up our Technology and Marketing Support and this meeting provided an opportunity to discuss how we can maximize our resources to benefit every member of the Proforma organization."
During this meeting, Proforma's OAC established work groups to help facilitate upcoming projects in the areas of technology, company stores, marketing, business development, operations, and strategic supplier partner development. Each work group will work towards a common goal to provide Proforma Affiliate Owners with valuable strategies and supporting resources to help drive sales and create new opportunities for business growth.
"This year's OAC planning has truly set the tone for the future of Proforma," says Steven Flaughers, Owner of Proforma 3rd Degree Marketing and current OAC President, "Discussions and a solid action plan over the next 12 months have been formulated and will be executed immediately. All owners and sales professionals will benefit for years to come from the initiatives in action and the hard work of the 2021-22 OAC."