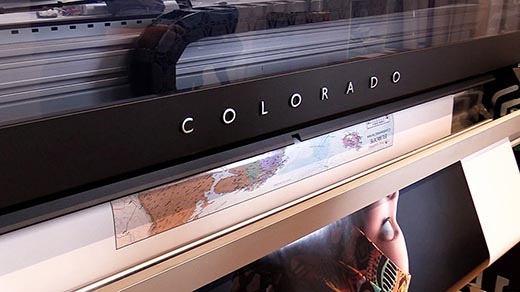 The Canon Colorado 650 in action.
As print service providers are constantly on the hunt for innovative ways to expand their business, reach new market applications and better meet new and existing customer challenges, ARC Document Solutions, based in San Ramon, CA, has significantly expanded its fleet of Display Graphics products, further establishing itself as a leader in the wide-format print space. As an expert in display graphics including wall and retail graphics, event displays, and marketing materials, ARC Document Solutions, a Canon Solutions America, Inc. customer and the largest digital graphics print provider with 150 print centers in North America, remains a strong competitor in the large format graphics space by continuing to invest in technology, including high-end graphics printers, to help better service its 90,000-plus customers nationwide.
This recent expansion includes purchase of one Premia AZ6170, five Colorado 1650s, two MultiCam cutters and two T3 Extreme Welder units. As the largest wide-format print customer of Canon Solutions America with a fleet of 38 Arizona flatbed printers, 18 Colorado 1640/50s as well as 25 MultiCam, Zünd and Colex cutters, ARC Document Solutions is a trailblazer in the display graphics space and has expanded into new markets such as education, hospitality, government, and health and fitness.
Beyond serving its customers with consistent, high-quality output with a wide range of finishing solutions, ARC Document Solutions and Canon Solutions America share a mutual dedication to offering the highest quality output possible, enhancing brand reliability and further demonstrating ARC Document Solutions' ability to produce exceptional graphics.
"While we have had great success with our current fleet of Canon products, we are always looking for opportunities to continue investing and expanding to reach new customers as well as continue to better service our existing client base efficiently," said Dilo Wijesuriya, COO, ARC Document Solutions. "One of the reasons why we continue purchasing products from Canon Solutions America is because our companies are aligned on many critical corporate commitments, including quality, reliability and innovation. We pride ourselves on providing our customers with solutions and output that are invaluable to their business, and truly enjoy expanding their horizons with solutions they may not have been aware of. As a full-service print and document solutions provider, we are very proud to serve clients around the globe."
Building on its dedication to high-quality products and services, ARC Document Solutions is committed to environmental sustainability and conservation of valuable resources, two key aspects of Canon Solutions America's corporate social responsibility initiatives. From planting trees for every tree's worth of paper used in their office devices through their Print & Plant Program initiative to supporting local communities, ARC Document Solutions continues to keep sustainability as its core of everyday decisions.
"When we create a product, we build it with our customers in mind and how our technology can provide their clients with the highest quality output possible, and we feel privileged to be that reliable source," said Peter P. Kowalczuk, president, Canon Solutions America. "ARC Document Solutions is a shining example of why we do what we do, and how by enabling our customers and partners to expand their application possibilities and grow their business, there is no limit to the success they can achieve. It is truly remarkable to see our customers benefitting from our products."