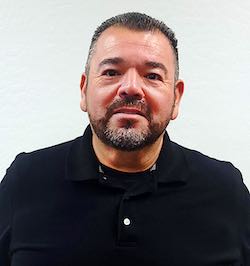 Phoenix, Ariz. – MUTOH America recently added Procurement Specialist Ronald Zuniga to the Phoenix team. Zuniga hails from Los Angeles and is responsible for numerous tasks, including:
• Purchasing
• Inventory control
• Assisting with order processing
• Receiving supplies and parts into the MUTOH system
His background in purchasing / customer service began in the Aerospace industry working as a contractor for companies such as Boeing and McDonnell Douglas, and early in his career he worked on C-17 transport planes as a mechanic. His work ethic revolves around the crucial life skill of learning how to communicate effectively.
"Everyone has different traits and personalities," Zuniga says. "It's important to communicate effectively with all types of people because each member of the team brings something to the table. For me in my work, the most important aspect is making sure everyone is satisfied and any possible issues and concerns are resolved."
When not at work Zuniga enjoys spending time with his three daughters, traveling and playing golf.
For more information on open positions at MUTOH, visit www.MUTOH.com and click on the Career Opportunities menu.