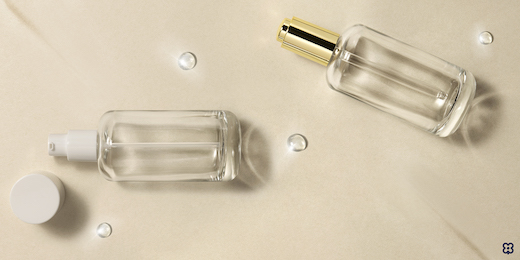 New Olivia 100 Super-Weight (SW) expands Olivia bottle series with largest capacity, now includes five sizes.
Richmond Hill, N.Y. (US headquarters) – Baralan, a consolidated player in primary packaging for the cosmetics and beauty industries, has introduced its Olivia 100 Super-Weight (SW), a rounded glass bottle developed specifically for fragrance and skincare products. This new bottle expands Baralan's existing Olivia series to include five sizes: Olivia 8 SW, Olivia 15 SW, Olivia 30 SW, Olivia 50 SW and the newly-added Olivia 100 SW.
Characterized by its distinctive super-weight style featuring a heavier glass bottom, the Olivia 100 SW has a luxurious look and feel. In addition, its rounded shape – both on the shoulders and base – offers users a simple, yet sophisticated design that matches the rest of the series.
The new bottle has a 100 ml capacity, the largest in the series., With two different neck finishes, GPI 18/415 and GPI 18/400, the bottle can be seamlessly to matched with a wide array of accessories, allowing : GPI 18/415 and GPI 18/400 for infinite possibilities into creatinge personalized packaging sets.
"At Baralan, we are always paying close attention to the interests of our brand customers and end users, making additions to our product ranges based on feedback received," said Maurizio Ficcadenti, Global R&D Manager at Baralan. "For that reason, we have now added our largest size bottle in the Olivia series. We hope this new addition will provide increased packaging options with the same visual appeal and functionality that our customers have come to love about the Olivia line."
For more information, visit www.baralan.com.