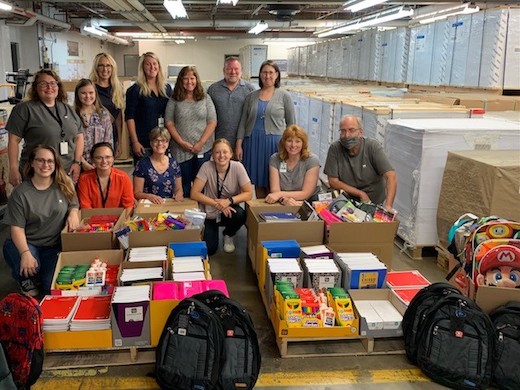 Wisconsin book printer activates associates to support United Way's Project Fresh Start
Stevens Point, Wis. – Worzalla, an employee-owned company specializing in printing high-quality children's books, movie tie-in books and cookbooks, for the third year in a row collected over 500 pounds of school supplies as part of Project Fresh Start, a United Way of Portage County Volunteer Center program. Project Fresh Start provides free school supplies for fourth to twelfth graders in Portage County who qualify for free and reduced lunch through their school district.
"The start of a new school year means buying new school supplies, and for low-income families it can be a time when money is tight," said Brianne Petruzalek, Vice President of Human Resources at Worzalla. "Worzalla recognizes this need, and we thank all our associates who collected and donated school supplies to help Portage County students start the school year strong."
Worzalla associates were incentivized to contribute to the school supplies drive through an internal contest. For each item donated, the associate received an entry into a raffle to win gift cards and paid time off. In addition to the school supplies collected and donated by associates, Worzalla also purchased and donated 30 backpacks to Project Fresh Start. Other donated items included pencils, notebooks, folders, markers, and more.
"Literacy is a value we embrace at Worzalla, and we are happy for any opportunity to help the community when it comes to learning," said Jim Fetherston, President and CEO at Worzalla. "We appreciate the United Way of Portage County for organizing Project Fresh Start. The program is one to ensure all students start the school year on the same page."
Worzalla has a history of supporting literacy and learning in the community, such as supporting area schools, donating books and sponsoring related events. Worzalla prints many popular children's books and is best known for being the domestic manufacturer of the popular Diary of a Wimpy Kid series. More information is available at Worzalla.com.
For more information, visit www.worzalla.com.