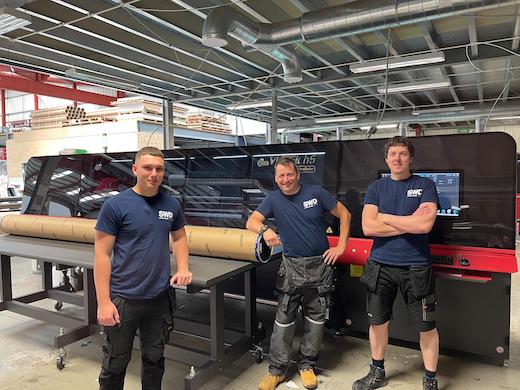 Kavalan PVC-free banner and UFabrik help this trade services printer advance its corporate sustainability goals
CMYUK, Shrewsbury – Super-Wide Digital has advanced its corporate sustainability goals with the adoption of eco materials from CMYUK. It has ordered a rolling consignment of PVC-free Kavalan for its banner work, and UFabrik ECO materials, a range of textiles made with yarn produced from recycled single-use waste plastic.
The Lancashire-based trade services printer has enough volume of these eco materials to migrate its customers to alternative high performing green solutions for banners, frontlit, backlit, blockout, and wallcovering applications.
"Certain customers are running a nice amount of Kavalan from us. We're holding stock, so we don't have to worry about selling it and then not having any available. We're ready to service everyone who wants to convert to a more sustainable solution," says Luke Drogan at Super-Wide Digital.
"We want to get to a point where we're turning more people over to non-PVC-free products – banner, rigid materials or vinyl, and other eco materials – to the point where it's actually a more cost-effective option to go green for all our clients. That's the target we've set," he says.
Known for PVC
PVC banner and mesh has long been the cornerstone at Super-Wide Digital, which celebrates its 21st business anniversary this September. "We've had to remind many of our customers that we don't just do PVC and mesh banners, because for so many years that's what they've heavily relied on us for," says Luke.
Super-Wide came to the realisation that the writing was on the wall for PVC as early as 2012. "It was the first period where people acknowledged that there was a need to go PVC-free but because of the cost, and the fact there were no real viable solutions. Everyone went from being a supporter of eco-friendly materials to realising it was something that was achievable at that stage," he says.
The company was an early adopter of soft signage applications. It was one of the first companies in the UK to work with silicone edge graphics, and heavily involved with dye-sublimation as an adjunct to its core PVC business. In recent years, Super-Wide has been working hard to reduce the use of foam PVC and PVC self-adhesive vinyls, but finding a viable solution for its PVC banner work was a problem.
"The main problem has been creating banners that are more environmentally- friendly and recyclable, which has been a big issue in terms of our green credentials," says Luke.
"It's only now with the introduction of the Kavalan products that we have a solution we are able to offer on a large scale. We're also able to cater for the finishing of those products, as we all know the welding and finishing of non-PVC products, up until now have been an issue," he adds.
While the company has a number of partnerships with select suppliers in the live events market, it is now actively building further strategic relationships with potential eco volume users in the events industry.
"We're launching a new website that will not be actively promoting PVC banner materials. We will still service that market to an extent as we can't switch it off overnight, but with every quote, we'll be offering the alternative Kavalan base," says Luke.
A more sustainable business
Super-Wide's continual drive towards sustainable solutions hasn't just been limited to its materials. Its printer fleet includes EFI LED low-energy consumption equipment powered in part by solar panels that have significantly reduced electricity from the national grid.
The company is also very diligent with its recycling activity, recycling everything that can be, including rigid boards, textile polyesters, packaging and containers. It also has a bailer on-site to help with the process.
Super-Wide is currently in talks with CMYUK about the latter's dedicated recycling scheme ecokarma. This initiative diverts Kavalan, UFabrik and Silicone eco materials away from landfill into recycling networks and waste to energy conversion processes.
ecokarma provides a controlled and trackable waste collection service that enables PSPs and their clients to manage the disposal of post printed waste eco materials.
"What we're doing at Super-Wide is really close to my heart," says Luke. "To make these changes and to move forward you have to really care about what you're doing, but we're going to get to a point that if you don't embrace sustainable practice, it will damage your future successes. Ultimately, it's people in the industry that will drive the eco message forward. We are working with CMYUK and other suppliers very closely to help make that happen."