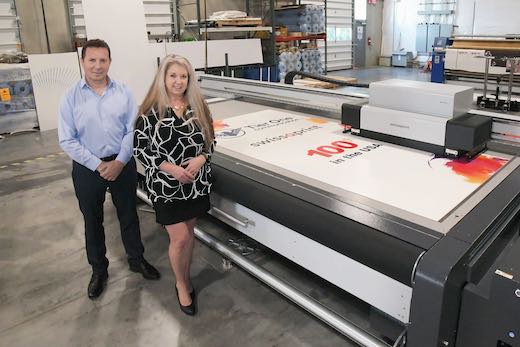 100th swissQprint machine in the US © swissQprint
The Swiss manufacturer of high-end large format printers, swissQprint, installed the 100th unit in the US during the pandemic in 2020. The customer, Tier One Communications of Portland, have taken their business to the next level thanks to this investment.
This is how Fawnda Shahalami, CEO/President of Tier One Communications (TOC), summarizes their motivation to invest in a swissQprint large format printer: "We want to lead the specialty print market with UV grand format printing and best in class solutions and equipment." They commissioned a Nyala 3 flatbed printer just as the pandemic hit the world in early 2020. It was the 100th unit that swissQprint installed in the US. Meanwhile, there are more than 130 swissQprint large format printers operating in North America.
Swiss technology in North America
The Swiss manufacturer's products are renowned for their quality, versatility and efficiency. They are available around the globe through an exclusive partner network. In the US and Canada, a swissQprint subsidiary based in Elgin, IL, is in charge of sales and service.
Expanding capabilities
Fawnda Shahalami reports that the Nyala 3 provides TOC with a multi-faceted capability list of solutions combining offset, screen and digital printing. In fact, the printer has taken TOC's business to the next level. Supplemented by media, production and automation options as well as a large color gamut, the printer allows them to cater to a wider market than before. They supply print, graphics and communications technology products to customers like Turner Construction, Lease Crutcher Lewis, Classic Exhibits, Costco, HSUS, Planet Fitness, Asante Health, Irving Park Advertising.
Solid choice for client and production needs
"We have owned and managed many printing platforms before. However, we tracked the performance of swissQprint over the years and found it a solid choice for our client and production needs," Fawnda Shahalami explains. TOC utilizes the Nyala 3 for all rigid and roll to roll media in various lines like signage, specialty graphics & media, banners, menus and promotional/marketing products. The swissQprint system introduced direct-to-substrate printing, saving time and material.
Custom configuration
Nyala 3 has a modular design. TOC complemented the CMYK standard with light colors as well as white and varnish. "This enables us to print many variations for multiple solutions," Fawnda Shahalami says. They use the varnish for special effects, spot and flood. "Satin, matte, gloss, spot – we have it all." The Nyala print bed is 126×96" large. According to Fawnda Shahalami, these dimensions were one of the primary reasons to purchase this printer. "So far, the largest sheet has been 5x10 ft but we see potentials for special projects involving long sheets." That is why TOC had the so-called board option installed. It handles boards up to 126×157.5".
In addition, the printer is equipped with a dual roll option processing roll media such as banners, floor and wall graphics through to fine art and photography prints. Fawnda Shahalami points out: "As we have 10' roll cutting capabilities, this 10' roll to roll configuration is perfect fit for us." In conclusion she says: "The ink configuration, especially the varnish and white ink, allow us to produce higher-end products, using multiple techniques that result in higher-margin jobs."