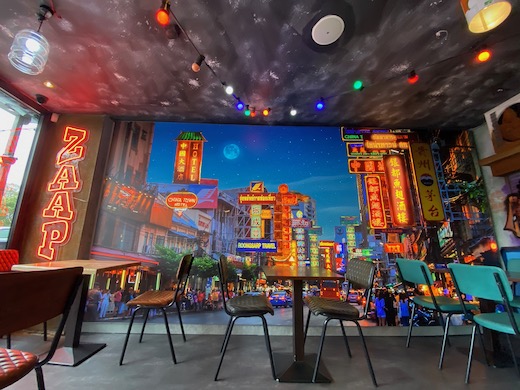 Imageco uses recycled waste plastic textile from CMYUK for Leeds-based Thai street food restaurant
CMYUK, Shrewsbury – The vast seamless beauty of UFabrik backlit Eco single piece wallcovering from CMYUK dominates the interior of the latest Zaap Thai Street Food restaurant opened recently in Headingley, Leeds.
Printed by large format digital print provider Imageco direct for client Zaap, the 5m wide, 2.5m high graphic is located in a supersized lightbox and depicts bustling daily life in downtown Bangkok.
The graphic was produced in such a way that it cleverly switches between day and night, providing a separate distinctive ambience for day and evening service at this popular eaterie.
This was achieved by night/day printing. Here a full colour day, and a full colour night image were digitally output and sandwiched together in the lightbox with a printed white layer between them. Only the daytime scene can be seen when the lightbox is off, but once turned on, the scene cleverly transforms into a nightscape featuring a bright moon, twinkling stars and illuminated city lights.
"UFabrik Eco Backlit is one of my favourite materials because not only is it made from recycled plastic bottles but the image quality is absolutely stunning," said Nathan Swinson-Bullough, MD Imageco.
UFabrik Eco textiles present a highly inventive re-purposed solution to the scourge of single use plastic bottles. Made using recycled PET yarn produced from single use plastic waste, UFabrik Eco is perfect for backlit, frontlit, and blockout applications as well as single piece wallcoverings up to 5m wide, and staple wrap around frames.
Earlier this year, Imageco – voted joint Green Award Winner at this year's British Sign Awards – announced that it would be offering the UFabrik Eco range as standard.
The Zaap lightbox graphics were printed on an EFI VUTEk GS 3250 LX Pro printer. A 5m wide LED hybrid, this prints 8 colours plus white. An improved green solution, it features lower operating costs due to decreased power consumption, fewer consumable parts, and less waste thanks to consistent colour from its Greenguard certified inks.