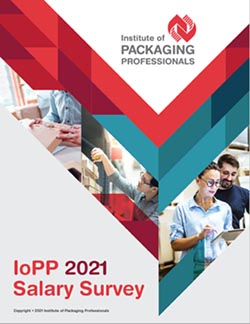 Herndon, Va. – Even after a year filled with uncertainty surrounding the pandemic that has rocked the globe, 70 percent of North American packaging professionals expect to earn more money in 2021 than they did in 2020, according to the findings of the newly released 2021 Salary Survey Report, produced by the Institute of Packaging Professionals (IoPP).
Year after year, IoPP continues to be the authoritative voice in reporting salary information and industry trends within the packaging industry. The IoPP Salary Survey is the only survey dedicated exclusively to benchmarking the salaries of packaging professionals and the report of the survey findings continues to be the definitive economic and employment resource for the industry.

Nearly 1,000 packaging professionals completed the annual Salary Survey this year with 47 percent of those respondents being IoPP members. The full report provides useful benefits and compensation data including compensation by age, experience, gender, company type and more! Leverage the 2021 Salary Survey Report as a salary benchmarking tool to remain competitive and ahead of the curve as a packaging industry professional.
"We are so excited to be able to offer such important information to the packaging community again this year! This 2021 Salary Survey report offers packaging professionals the opportunity to understand how their salary compares to those of their peers in the packaging industry," says Jane Chase, executive director, IoPP. "It also shines a light on the fact that both IoPP members and those who have earned IoPP's Certified Packaging Professional (CPP) designation earn more on average than their non-member, non-certified counterparts. Yet another reason why becoming a member of IoPP is a worthwhile investment that pays off."

The 2021 IoPP Salary Survey Report is now available online for purchase in the IoPP bookstore. IoPP members receive the Executive Summary or full report for free, depending on their membership level. Visit www.iopp.org and click on Bookstore for more information and to access the report. To join IoPP, visit www.iopp.org/join.