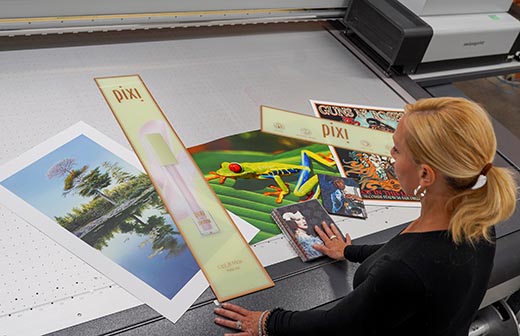 Simpson Print of Bloomingdale, Canada, have installed their third swissQprint Nyala flatbed printer. They expect the retail market to take off again soon and are ready to meet the increased demand as well as new customer requirements. Key is a holistic concept.
"People will be back in the stores once the pandemic is over," Carla Johanns, President of Simpson Print, believes. Retail representing a major part of this company's business, they are preparing to face the boom and possible new requirements as they expect a shift to a more hybrid market.
Third swissQprint machine in place
The Bloomingdale-based Canadian company has been a successful four-color screen printer for over 25 years and an early adopter in wide format. "Simpson Print is always about unique differentiation in the market," Carla Johanns stresses. In fact, the company has constantly grown and successfully diversified since 2017, when the company introduced an MIS as well as their first swissQprint large format printer. They added another one in 2019 and have now installed the third. All of these Nyala flatbed printers are equipped with various add-ons.
It is all about quality
Carla Johanns makes a point: "This acquisition was about quality." As she sees it, technology platforms are ever-changing and speeds have increased since the earliest days of digital technology. However, she concludes: "Quality is a client deliverable that we are not willing to sacrifice." Adding a third platform with a jetable primer puts the organization in one of the strongest positions possible for quality, speed, and versatility in meeting all print requirements on time, she explains.
… and integrated processes
Simpson Print is a full-service provider, specializing in a diverse set of capabilities: industrial nameplate and decal business as well as retail merchandising and in-store signage, through to custom and high-volume packaging. "Key to success is not just diversity, but intelligent integrated processes," Carla Johanns adds. The company has everything under one roof: printing and finishing, warehouse and inventory management, accurate final fulfilment, complimented by a dedicated on-site client care team.
 Further information:
swissQprint America
2521 Technology Dr, Suite 210
Elgin, IL 60124, USA
T +1 224 802 27 70
F +1 224 802 27 71
[email protected]
www.swissqprint.com