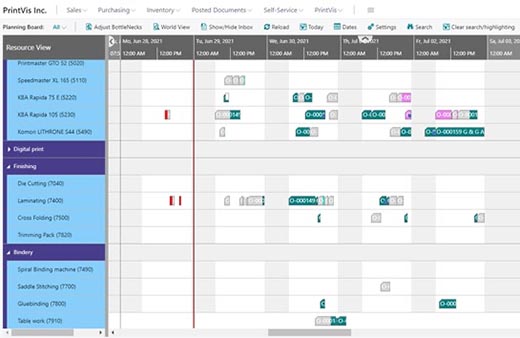 PrintVis Planning Board
Announcing the latest release of PrintVis, PV18
Following Microsoft's Dynamics 365 Business Central 2021 release Wave 1, v18, we present PrintVis 18. This release has the same structure as PV17, with a base app (extension) and separate extensions to install when the specific functionality of the extension is needed.
PV18: Enhanced Integration to External Working Environments With more and more work being done within a cloud environment, new and modified infrastructures have been made necessary to adjust for challenges in communication between any local firewall and data in the cloud. We are keeping existing functionality running smoothly while significant changes have been made to the underlying architecture.
In this release we have continued our progress with deepening, enhanced integrations necessitated by this everexpanding work in the cloud, across multiple features and modules.
Everything described here ships standard in PrintVis18.
PV18 New Features
• Combined Shipments
• Price Lists & Unit Prices
• Invoicing per Line
• Planning Board Enhancements
• Cloud to On-Prem Communication
• Web2Print to PV Orders
• VPress Integration (Web2PV Frontend)
• Zaikio Procurement Platform Integration
• Kodak Plate Consumption
• DCM/Moxa
• Business Central Sales & Marketing Integration
• Multi-Company Functionality
• PrintVis Storage
For details on these features and more, go to PrintVis.com.
"PrintVis is special because it can be adapted to any manufacturing process. The program does not care whether you are producing offset, digital, wide format, or apparel. In addition, the program allows complete flexibility in the bindery and fulfillment arena." - U.S. Customer
Free Cloud Trial on AppSource
PrintVis in the Cloud is available as a FREE TRIAL from Microsoft AppSource. Now is the perfect opportunity to try out the attractive modern client UI for Microsoft Dynamics 365 Business Central with the print-specific MIS functionality of PrintVis built right in.
Learn the basics of creating a quote, adding demo data and more with our helpful guides - and get ready to take your graphics business to the next level with a complete solution powered by Microsoft Dynamics.
Go here to get started on your free trial version of PrintVis: https://printvis.com/trial/