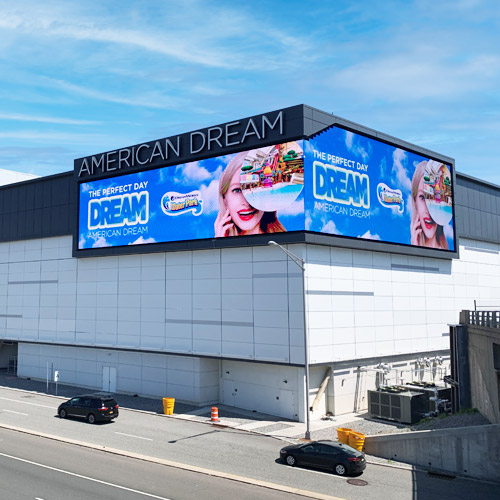 East Rutherford, N.J. – Work continues apace at entertainment destination venue American Dream, as SNA Displays completes the installation of several key EMPIRE™ Exterior LED screens, with more to come. The vast development, which stretches out over three million square feet just off the New Jersey Turnpike, reopened in October 2020 and thrills its many visitors with numerous retail stores, entertainment venues, and attractions, not to mention a vast network of interior digital signage, also installed and managed by SNA Displays.
Some of the premier outdoor LED displays on the campus include a ground-level 6.67 mm pixel pitch screen that hasalready received some attention and a 12 mm corner wrap sign facing heavy traffic near the intersection of Route 3 and Route 120.
The massive ground-level screen, known as the Grand Staircase because of the steps that cut through its two sections, is located between parking decks B/C and D. Combined, the two sections are approximately 12 feet tall by 107 feet long, about the size of two and a half highway billboards end to end, and include 2.7 million pixels.
The 90-degree corner wrap display is near the mall's Court A entrance leading to attractions like Big Snow, SEA LIFE Aquarium, and the Lego Land Discovery Center. The west facing side of the display on Route 120 faces MetLife Stadium while the south face of the display faces Route 3. It is approximately 24 feet high by 165 feet wide (600 x 4,200 pixels) for a total of 4,200 square feet and 2.5 million pixels.
Other installed exterior displays include a pair of 10 mm LED screens, one stationed at the entrance from Route 3 and the other at parking lot 27, as well as two double-sided 12 mm LED billboards along Route 120.
All exterior LED displays are used for digital out-of-home (OOH) advertising and represented by BOLDSITE Media. American Dream is also given time to promote on-campus attractions on the network. To date, SNA Displays has installed over 200 interior and exterior displays throughout the American Dream campus.
SNA Displays' managed services division, the Client Service Group, oversees all of the American Dream digital assets. This includes around-the-clock monitoring, content adjustment, analytics, diagnostics, and warranty services.
For more information on American Dream, visit snadisplays.com/projects/american-dream-meadowlands.