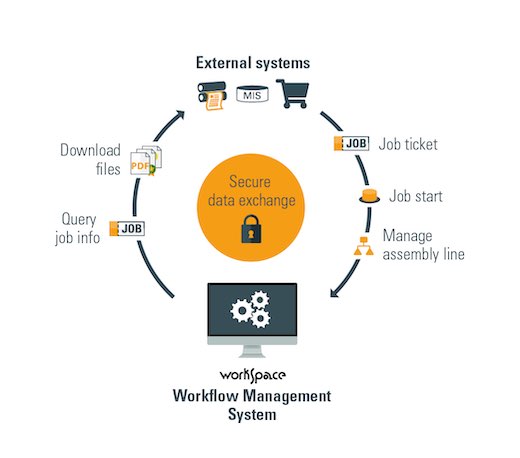 With Workspace Web Services it is easy and secure to connect Workspace with external services
With the launch of software version 21.1, OneVision's workflow management system Workspace Pro X gets an easy-to-use dashboard. This allows users to control and analyze key metrics of their print production as a basis to adjust the workflow if necessary. In addition, the new software version provides new functionalities for connecting with external systems and production machines.
Regensburg – Having a reliable overview on their KPIs (Key Performance Indicator) gives print service providers a deciding advantage when it comes to efficiently structuring production processes. After all, only those who know which indicators prevent optimal capacity utilization can optimize the workflow in the right places.
Dashboard to track all relevant production data
With the newly integrated statistics dashboard, users of the workflow management system Workspace Pro X can now easily track the workload of individual modules as well as the job status (error, warning, cancelled or completed). The dashboard also shows which modules are working at maximum capacity.
For a more detailed analysis, users can install "Elasticsearch" and integrate further statistical data about their production into the dashboard overview. With "Elasticsearch", for example, it is possible to analyze the most frequent errors as well as the job results per assembly line. The dashboard is updated with every new job start and thus enables clear workflow control as well as long-term analysis of the production workload.
Easy integration with MIS/web shop through "Web Services"
The new software version 21.1 also provides new functionalities when it comes to integration. It is now possible to integrate MIS (Management Information System) or web shops with the workflow management system Workspace quickly and easily. The data security during the transfer is further increased. Users can define which information is exchanged with the external system.
Connections to Canon PRISMAsync and Konica Minolta KM-1(e)
The two new connections to Canon PRISMAsync and Konica Minolta AccurioJet KM-1e ensure improved interaction and smooth integration with hardware machines.
Learn more about the new version in our sofware-version-21-1 webinars