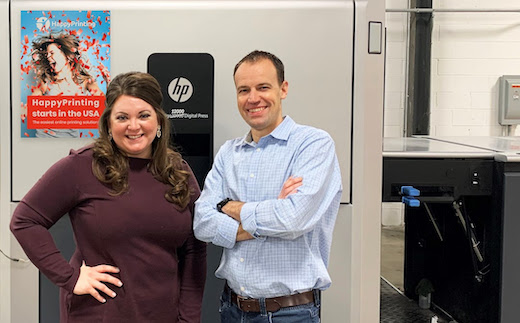 Vice President Rosemarie Breske Garvey and President Brian Scott
Blooming Color is proud to announce its partnership with the worldwide online printing platform HappyPrinting, for the launch of HappyPrinting in the US.
For over 30 years, Blooming Color has been one of Chicago's leading commercial printers, offering cutting-edge technology and the forward thinking commitment to 'ink the impossible'.
The new HappyPrinting US, powered by Blooming Color, is centrally located to service the metropolitan Chicago area of over 9 million people, as well as the over 380 million people in the United States as a whole.
Business products including business cards, flyers, banners and posters are available, as also consumer products including photo tiles, personalized wall-art and textiles are available on www.happyprinting.com
Brian Scott, President of Blooming Color says: "We are excited to be a partner of the HappyPrinting network and offer a great retail web-to-print platform to our US customers, nationwide."
Sven Rusticus, CEO of HappyPrinting: "Ordering print should be a happy experience, and therefore we look forward to offering the easiest online printing experience in the US together with Blooming Color."
Jean-Pierre Meijer, CTO of HappyPrinting: "We have become experts of the printing industry and integrated all our knowledge into our platform, being used by all our printing partners worldwide."
HappyPrinting is growing fast and is now active in 15 countries, among others in the Netherlands, Spain, Philippines, Japan, Bulgaria, Mexico, UK and now also in the United States.
HP Innovation Partner
HappyPrinting is an innovation partner of HP Indigo and offers its solution to HP Indigo customers worldwide who want to grow their business via web-to-print. HappyPrinting specializes in Printing On Demand, making short print runs affordable and environmentally friendly.
About Blooming Color, Inc.
Blooming Color, Inc. is a world-class commercial printing facility located in Lombard, Illinois. A leading printer for over 30 years, they know that when you have ideas, ink, and ingenuity, nothing is impossible. Through the decades, Blooming Color has expanded and grown with technology to become a leader in commercial printing – not only in the Chicagoland area, but across the globe.
Blooming Color delivers best-in-class quality services to clients across a variety of printing disciplines – from conventional and wide format capabilities, to exceptional HP Indigo digital offset printing and on-demand web-to-print services. For more information, visit www.bloomingcolor.com or call 630.705.9200.
About HappyPrinting
HappyPrinting is a global online printing platform, connecting local supply to local demand and increasing sales for local printing partners. HappyPrinting minimizes transportation needs and lowers the carbon footprint of print.
HappyPrinting is based in the Netherlands and offers its online printing platform, with all marketing services. HappyPrinting's vision is to create a global network of local printers, based on one platform, who all share their knowledge in technology, innovation and marketing. More information about HappyPrinting can be found on www.happyprinting.net.