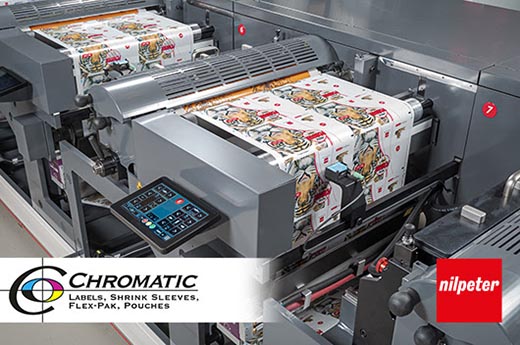 The new Nilpeter FA-26 is a game-changer in short and long run flexible packaging printing. From pouches and sachets, to wrap-arounds, shrink sleenes, labels, and more.
Chromatic Labels of Irvine, CA, USA, has acquired a new 8-colour Nilpeter FA-26 to improve response times and offer new solutions to existing and new customers. Simultaneously, the company has moved into a new, state-of-the-art 35,000 sq. ft. manufacturing facility.
The FA-26 is the latest and widest flexo press Nilpeter has ever developed. Designed to print with water-based and solvent inks, with UV, LED, and E-beam processes - in any combination, the FA-26 is a game-changer in short run flexible packaging. From pouches and sachets to wrap-arounds, shrink sleeves, labels, and more.
The FA-26 is fully sleeve-based, both for anilox and plate rollers, with a closed ink chamber system. This construction, combined with the new landscape design, ensures high-quality printing and unique production performance.
Improved Response Times and New Solutions
"We are very excited with the purchase of this new state-of-the-art, mid-web flexographic press, which is scheduled to be up-and-running by the end of August," says Mark Gaw, Vice-President & General Manager, Chromatic Labels.
"The FA-26 will enable us to improve our response times on existing business as well as offer new solutions," he continues.
"The purchase of the new equipment required more space, so we have moved into an impressive, new 35,000 sq. ft. manufacturing facility ½ mile from our previous location," Mark Gaw adds.
"We appreciate our long relationships with all of our customers and suppliers and expect these relationships to improve, as we have better resources to support everyone," he concludes.
Leading Manufacturing Capabilities
"By investing in the new FA-26, Chromatic has put themselves on the leading edge of manufacturing capabilities for flexible packaging," says John Crammer, Sales Consultant, Nilpeter USA.
"The FA-26 was designed from the ground up for quick-change and high-speed capabilities with in-line lamination. With top speeds of 820 feet per minute, and 2-3 minute print station changeovers, this truly is a game-changer for the mid-web market" he continues.
"With a full 26" web width, this addition to Chromatic's Nilpeter-based platform gives them the ability to significantly expand their offerings to their customer base. We, at Nilpeter, appreciate the trust Chromatic has put in us in choosing their printing partner," John Crammer concludes.
About Chromatic Labels
Chromatic Labels is headquartered in Irvine, CA, and is a custom flexible packaging and pressure-sensitive labels manufacturer. Chromatic serves small-to-medium sized companies in the nutraceutical, cosmetic, food & beverage, and pharmaceutical industries.
Chromatic's commitment to excellent customer service and fast, responsive print turnaround, while maintaining the highest standards of quality, has allowed them to effectively serve the manufacturers, distributors, and brokers of Southern California, throughout the United States, Canada, and Mexico.