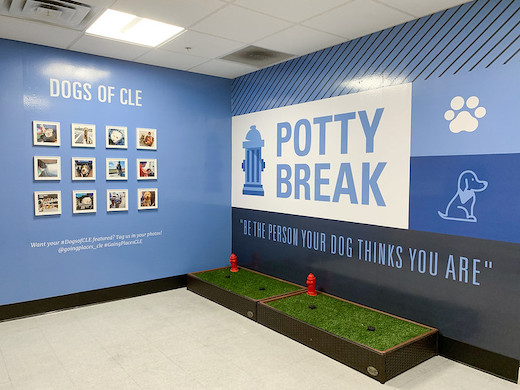 Challenge: Use wall graphics as an aid in keeping a dedicated interior wall space within a large international airport clean and protected.

Customer:
Repros, Inc., Cleveland, Ohio
Cleveland Hopkins International Airport, Cleveland, Ohio

Application:
Interior wall graphic mural

Solution:
Mactac REBEL® H and PermaGard® SHIELD

Project Summary:
With a reputation as Northeast Ohio's premier large and grand format production facility for graphics solutions and products, Cleveland-based Repros, Inc. knows wall graphics. So, it was no surprise when Recess Creative, LLC, a full-service creative agency also located in Cleveland, approached Repros for a recommendation on a somewhat unusual wall graphic application they were designing. The project was for Cleveland Hopkins International Airport's 'doggy relief area,' a dedicated area inside the airport for passengers' traveling pets to relieve themselves. The customer's primary concern was keeping the walls in the area clean and protected.

Repros immediately recommended Mactac's REBEL® H (RB528H) multi-print media – the company's go-to media for nearly any wall graphic or mural application. The experts at Repros also suggested that to further address the issue of cleanliness, the Recess team pair REBEL H with Mactac's newest overlaminate innovation, PermaGard® Shield (PGS128) – which not only protects wall graphics but also features antimicrobial properties. Recess Creative jumped on the recommendation, finished the graphic design, and turned things over to Repros for printing and installation. The graphics were printed on a Canon Océ Colorado Series printer and installed within 1.5 hours using two installers.

"We love working with REBEL H. We can use it in multiple locations and know it's not going to fail," said Anthony La Guardia of Repros. "Since the customer also wanted something easy to clean, but that offered protection, we knew the Shield overlaminate would deliver the added benefits they were looking for."

Chris Jungjohann, the founder/principal of Recess Creative, added:

"This project started off as a pretty typical install until we learned of the unique requirements of the interior walls. But, working with Repros is always an easy choice. They consistently deliver a high-end product on time and I never have to worry about anything. When they suggested this new material to help block out germs and protect not only the walls but the passengers and their pets, we knew this was what we were looking for. The finished space looks awesome and we don't have to worry about wear and tear."

Mactac's high-performance REBEL H multi-print media is known for its high initial tack and lasting strength. It is designed for interior and exterior marking and signage applications. PermaGard® Shield products continuously eliminate microbial contaminants and resist microbe growth, adding protection to high-touch areas and graphic images. They feature abrasion and moisture resistance, UV inhibitors, long-lasting efficacy, and superior durability and appearance, even after continuous cleaning and exposure to environmental elements.

Did you use Mactac material on a recent project? Contact [email protected] to have your story featured! For more information regarding Mactac products or graphic solutions, call 866-622-8223, or visit www.mactac.com/graphics.