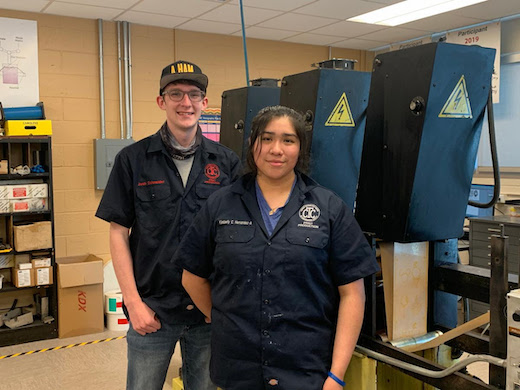 1st Place in High School Skills Competition - Joshua Schneider and Kimberly Hernandez - CTC of Lackawanna County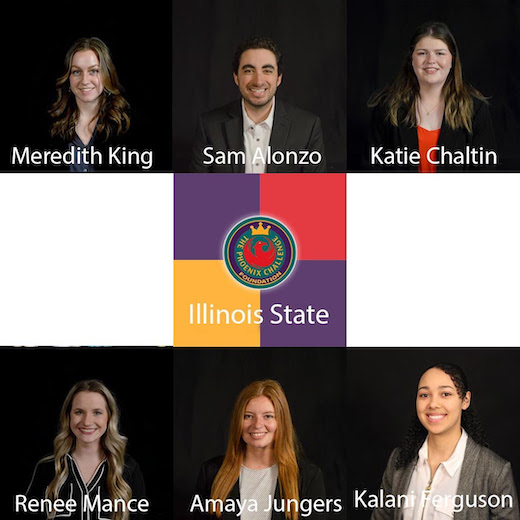 First Place in Collegiate Competition – Illinois State University – Meredith Kink, Sam Alonzo, Katie Chaltin, Renee Mance, Amaya Jungers and Kalani Ferguson
Phoenix Challenge Competition Announces 2021 Winners College and High School Results
Charlotte, NC. (5 May 2021) – 2021 Phoenix Challenge College & High School Competitions, even while still adapting in a COVID environment, were both successes this year. Both competitions are premier examples of dedication, problem solving and showcasing knowledge and experience. All the participating teams and students have shown their caliber of talent and poise as they aim for careers in the flexo and package printing industry.
The Phoenix Challenge Foundation is excited to announce the winners of this year's competitions.
The 24th Annual Phoenix Challenge High School Skills Competition, done virtually this year, delivered talented students eager to show off their knowledge they have learned. And the winners are...
1st Place - Joshua Schneider and Kimberly Hernandez - CTC of Lackawanna County
2nd Place - Alyson Patterson and Kayla McDonnel - Cuyahoga Valley Career Center
Tied for 3rd Place - Rebecca Ratliff and Emma Williams - Knox High School tied with Jason Velazquez and Edgar Trejo - Johnson High School
The 14th Annual Phoenix Challenge Collegiate Competition did not disappoint this year! The teams, as usual, deliver high quality work to their own pursued clients for a real-world business project that includes research, brand imagery, a business plan, all coupled with exceptional flexo-produced print production. This year's project winners are
First Place – Illinois State University – Meredith Kink, Sam Alonzo, Katie Chaltin, Renee Mance, Amaya Jungers and Kalani Ferguson
Second Place – Appalachian State University - Madelyn Davis, Megan Pritcher, Amanda Gaspard, Oliver Webb and Jennifer Pantoja
Third Place – CalPoly – Trent Kammerer, Lisa Teufel, Emma Steward, Jessica Dong, Michelle Kang and Sara Holm
The winning team, Illinois State University, will be featured during the 2021 FTA Virtual Forum Online program where they will showcase their presentation and printed packaging during the session on May20, 2020 titled "FQC: Investigating Methods to Increase Efficiency & Packaging Quality" – to be held from 10:00 a.m - 12:00 p.m. Eastern. To learn more, visit FTA Forum - FQC Session 2021
Congratulations to all the students and teams! Great job.
Regarding this year's competition, Foundation Chairman Bettlyyn Krafft said, "I continue to be inspired, impressed and frankly just blown away by the college competition. The students take it up several notches every year. This year, with all the difficulties surrounding the pandemic, these students went even further above and beyond. This is why I do this, to help and watch these students thrive!!"
All the Phoenix Challenge student participants, though the support of the Foundation, can continue their education and do become productive participants at companies in our industry. From young career entries to long-standing professional leaders, the Phoenix Challenge Foundation has helped develop talent that now works with leading companies including: J. R. Cole Industries, Salem One, MacDermid Graphics Solutions, Harper Corporation, Quantum Ink Co., Tesa Tape, Anderson/Vreeland, Mark Andy, Inc., We Are Alexander and more.
Support needed! Sponsors are crucial to driving our industry's future!