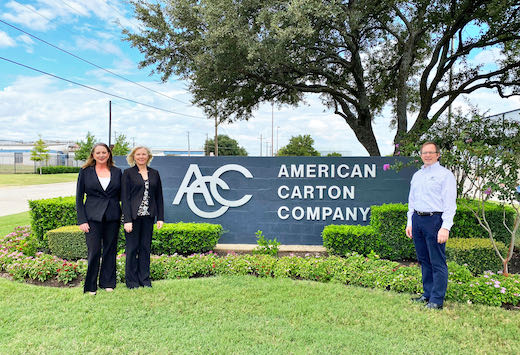 From left to right: Jana Harris – President/CEO, Jenise Harris Cox – CFO, Trent Tucker – General Manager
Newtown, Conn. – The Independent Carton Group (ICG), an association of 19 independently owned and operated folding carton manufacturers, is pleased to welcome American Carton Company of Mansfield, Texas who was voted into the association during their virtual general meeting on November 12, 2020.
American Carton Company (www.americancarton.com) was founded in 1992 by Joe Harris and a business partner as part of Harris Packaging Corporation (www.harrispackaging.com). Since 2006 the company has been run by Harris' two daughters Jana Harris and Jenise Harris Cox and is a certified women-owned business. Jenise is a graduate of Texas A&M with a degree in mathematics while Jana graduated from the University of Texas at Arlington and remains active with alumni and the schools of packaging and business.
In 2009 Trent Tucker was hired as American Carton's General Manager coming in with a long history in the printing and packaging world. The company has made great strides in the next 4 years receiving certifications in ISO 9001, Safe Quality Food (SQF), G7, GMI (Graphic Measures International), and SFI (Sustainable Forest Initiative) and receiving many outstanding customer audits.
Over the past decade sales have grown significantly and have continued to grow through the pandemic. "We specialize on bringing what the big guys do for their big brand customers to our small brand customers, extreme value but with a personal touch" says Tucker, "we have grown our business in the pharmaceutical and medical supplies sectors as well as consumer packaging by being the best full-service supplier we can be to our customers in Texas and neighboring states."
"We have heard for many years of the outstanding value ICG members gain from being part of that group" says Harris, "one of the key benefits we are looking for is backup production support, and the peace of mind that brings our customers – that we will always be able to supply them with the products and services they are accustomed to getting from us." Also important to American Carton is the openness and best practice sharing that the ICG brings to their members. "We are all vibrant family-owned businesses that have similar values and goals, sharing with like-minded business owners is even more important today than ever" says Harris. "Being a member of the ICG is one more way we can continue to grow our business and give us the ability to give more people jobs."
About the Independent Carton Group
The Independent Carton Group (ICG) is a growing association of 19 independently owned and operated folding carton companies from 15 states and Canada. The ICG works tirelessly to make sure that its members have access to competitive pricing on raw materials, equipment and consumables as well as offering learning and networking opportunities that help them to be successful. In 2019 ICG members collectively produced over $800 million in cartons and consumed over 250,000 tons of board.
For more information on the ICG or to inquire about how your company can benefit from membership contact the ICG office at 203-270-7578.