Domino continues to grow and invest in its digital printing business. Building on strength upon strength, Domino North America adds and promotes talent to support their increasing customer base. Here is the latest example.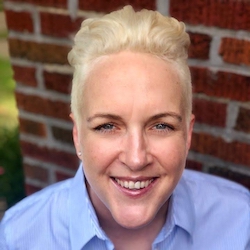 Jessie Van Apeldoorn has been promoted to Digital Printing Lead Installation Engineer.
Jessie is approaching her seventh year with Domino, and she has consistently proven to be a great asset to the organization and their customers.
"Jessie has successfully taken on every challenge and continually asks for new challenges. She has mastered the N610i installation and service to our customers, providing outstanding results. Jessie has helped implement procedures that are being utilized worldwide," says Eric Van Patten, Domino Projects and Installation Manager.
In addition, Jessie has most recently taken on the role of mentor for the company's newest Installation Engineers, such as Scott Freebersyser who joined Domino after 10 years of field service experience at Mark Andy. "Jessie embraces the opportunity to share her knowledge, installation techniques, and standardization. Her leadership and enthusiasm are fantastic," adds Eric.
"I am beyond proud to be part of the Domino team," says Jessie. "Domino has always made me feel like my voice is heard, and that I can achieve all my career goals. The relationships I have built with our customers is very meaningful and has given me drive to be better every day."
Jessie's Story
"My father was a mechanic. When I was growing up, I watched him fix everything under the sun. I did not know it at the time, but just watching him repair cars, tractors, motorcycles, and everyday household items sparked and inspired my curiosity and talent for working with industrial printing presses.
My engineering journey started as a computer specialist in an elementary school. I fell in love with fixing computers, printers, and helping people with their technology needs. In 2006, I moved into the technology industry as a technician working on desktops, laptops, servers, and laser printers. I found my strengths in being able to take a machine apart and put it back to together in a systematic pattern.

In 2014, I joined Domino North America as a Digital Printing Installation Engineer. I enjoy getting to know and helping customers just as much as I like working on the digital press. In 2017, I was selected by my peers as the Digital Printing Engineer of the Year…an award that I consider one of the highest accomplishments of my career.
Being a press engineer as a female is not the normal path followed. I did not grow up wanting to be an engineer. It was not something encouraged in high school for females. I was lucky to have fallen in this path and found supportive men and women who inspired and believed in me, even when I did not. I found my passion and gratitude for all the help and encouragement along the way."
Domino is a leading manufacturer and distributor of digital printing and product identification solutions. Celebrating its 43rd year in business, Domino is a global organization with world headquarters in the UK, and North America headquarters in Gurnee, IL. Domino has 25 subsidiaries, representation in over 120 countries, and over 2,900 employees worldwide. For more information on Domino, please visit dominodigitalprinting.com.