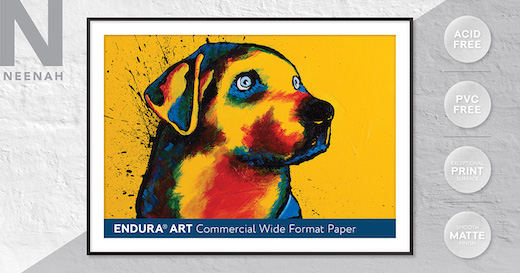 New 500-Foot Poster Roll Decreases Production Times by 15%
Alpharetta, Ga. – Neenah is expanding their popular ENDURA® Wide Format line to include ENDURA® POSTER in a new seven mil, 500-foot roll. It is also adding an innovative seventeen mil matte finish ENDURA® ART to the portfolio. These additions are in response to market demand created by wide format equipment enhancements while providing a trusted, durable and cost-efficient signage solution for various retail, hospitality, attractions, and commercial art businesses.
"The new 500-foot roll is a game-changer for our printing partners. The new sizing means fewer interruptions of print runs for reloading, less stopping to purge and clean the printer, and more manageable time, effort, and labor per project. In our tests on 150 vs. 500-foot rolls we saw a decrease in production times by a minimum of 15%," said Jason Leonard, Business Development Manager for Neenah.
"In the commercial art reproduction space, the thicker ENDURA ART photorealistic paper with a new elegant matte finish runs like a dream and is competitively priced to ensure profitability without sacrificing printability," added Leonard.
As part of this exciting launch, Neenah is offering a free webinar, hosted by Leonard, on May 4 at 3 p.m. EDT for print service providers. During the presentation, Leonard will educate on how to take advantage of the potential cost-savings related to using ENDURA poster papers and the opportunity within the growing commercial art reproduction market. Plus, we're giving away 45 150 ft. trial rolls! Attend the webinar to find out how to get yours.

All ENDURA poster printing papers are PVC-free and FSC-Certified to answer the growing call for sustainable solutions in the wide format marketplace. The new seven and seventeen mil gloss and matte surfaces offer an exceptional print surface for beautiful printing results across multiple print technologies. ENDURA also boasts fast, eco-solvent dry times, reduced ink limitations, and resistance to dents and dings. Neenah will continue to offer its best-selling ENDURA® POSTER PLUS in 10 mil satin and matte finishes.
"Wide format equipment evolution now allows for larger rolls, continuous runs, and improvements for smoother printing. Our strong relationships with the OEMs helped guide us to this new product portfolio. ENDURA is already a trusted go-to photorealistic poster paper with ENDURA POSTER being a proven success for all general roll poster applications. The expanded roll sizing will help printers produce beautiful results even more efficiently, driving costs down," stated Leonard. "ENDURA ART extends the brand, bringing the quality and performance of ENDURA to the commercial art reproduction market."
To sign up or learn more about the free ENDURA webinar, please visit: http://www.neenahpaper.com/endura-launch.