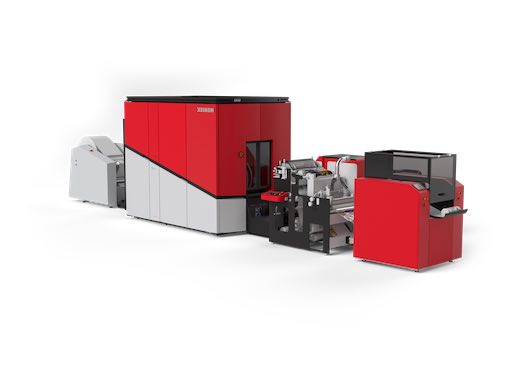 Itasca, Ill. – Xeikon America today announced an eco-friendly, cost-effective digital answer to today's wallpaper production challenges. As a key part of Xeikon's Wall Deco Suite and with Xeikon's bespoke and environmentally friendly dry toner technology with extended color gamut, the new Xeikon CX50 is introduced. The Xeikon Wall Deco Suite is an all-in-one streamlined solution including inline finishing – all developed to cost effectively produce creative wall decorations including custom illustrations and photomurals in short runs. Meeting today's consumer demand for individualized home interiors, the Xeikon CX50 digital press offers unlimited creative freedom across a wide range of substrates where every printed product can be unique.
"Xeikon has once again led the way in bringing to market a complete end-to-end solution for wall decoration production," said Dimitri Van Gaever, Xeikon's Market Segment Director for Graphic Arts. "We have assembled a complete automated Wall Deco factory that produces a quality finished coreless roll. The Xeikon CX50 digital press fits perfectly into our portfolio for wallcovering applications, midway between the Xeikon 3050 REX entry level option and our high-end Xeikon CX500 digital press. For higher speeds, the Xeikon CX50 can be upgraded from 20 meters per minute (65 feet per minute) to 30 meters per minute (98 feet per minute). Using Xeikon's dry toner technology and advanced color management capability with new generation interfaces and cloud connection, the Xeikon CX50 simplex digital press is designed to offer maximum overall equipment effectiveness (OEE) and total cost of ownership (TCO)."
The wall decoration market has huge potential, however online ordering, stricter environmental controls and consumer demand for unique products present a number of challenges for conventional wallpaper companies. Xeikon is dedicated to helping its customers improve business profitability and drive growth through our creative solutions. Xeikon has designed and developed its Wall Deco Suite to give businesses an all-in-one cost-effective solution which can give them every advantage in the marketplace.
Like all the company's presses, the Xeikon CX50 is driven by Xeikon's powerful and intelligent X-800 digital front end for full automation and integration. Xeikon's Digital Front End (DFE) workflow is a true differentiator and enabler and can be integrated with common ERP and MIS systems. The X-800 workflow, which is the same across all Xeikon dry toner solutions, features a 'poster layout' function for murals and wallcoverings to ensure precise registration for seamless installation. Accuracy of color reproduction is guaranteed by an integrated on-press inline spectrometer and an optional registration camera. The Xeikon CX50 press provides superior color consistency and an extended color gamut. Xeikon-developed dry toner is available in CMYK, red, blue, green, orange and magenta, plus one-pass opaque white custom colors. Inline finishing equipment has been specifically designed to work within Xeikon's Wall Deco Production Suite and includes inline water-based varnishing, slitting, waste removal and coreless rewinding, providing a fully finished wallpaper roll, ready-to ship, in one operation.
"Part of Xeikon's ongoing value proposition is to offer the market choices to help customers drive business growth," added Van Gaever. "We believe a successful and cost-effective investment in a digital production solution works best when it is based on expected and realistic print volumes. The Xeikon CX50 press is ideal for those working in wall decoration production with flexible orders and shorter runs. With its capability to upgrade to higher speeds, an investment in this press ensures and secures future business growth. With Xeikon's long standing expertise, we can help our customers make relevant and appropriate choices. We are recognized as a 'go to' trusted advisor and solutions provider. With the introduction of our Xeikon CX50 digital press for Wall Decoration, we strengthen our comprehensive portfolio so that our customers can find everything they need from Xeikon."