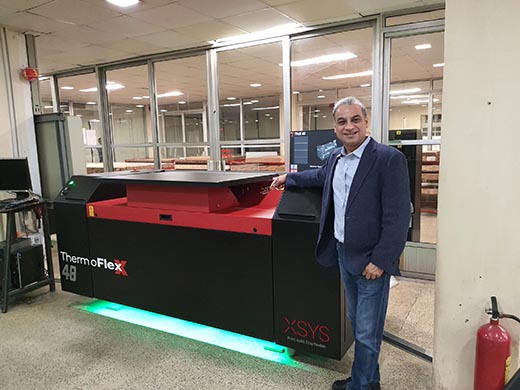 The recent installation of a new ThermoFlexX TFxX 48 was carried out by the Pakistani platemaking pioneer's own engineers, supported remotely by the XSYS team. Despite restrictions due to the COVID-19 pandemic, the flexo plate imager was up and running within three days of arriving at the repro house in Karachi.
Stuttgart, Germany – Digital Process (Pvt) Ltd has led the way in digital flexo platemaking in Pakistan since its inception. Founded in 2006, the company is today the top repro house in the country, supporting many of the biggest printing companies and their global brand customers with a wide range of prepress services.
Flexo plates account for 65% of sales. The 24/7 operation has 50 staff and boasts turnaround times of just 24 hours from approval of artwork, all made possible by running four production lines, employing a host of highly experienced graphic designers and utilizing strong ERP software to manage the workflow.
The company also operates as a distributor of other flexo consumables including sleeves, inks, anilox cylinders, tapes, cleaning chemicals and flexible dies, and exports to the Middle East, Africa and occasionally Europe.
Continuous improvement with best equipment
In order to expand capacity further in the flexo platemaking department, which consumes over 10,000 sqm of photopolymer plate material each year, Digital Process has recently invested in an additional digital imager from XSYS.
The choice fell for a ThermoFlexX TFxX 48 model as a complement to an existing ThermoFlexX TFxX 60, which was installed just two years ago. This means that the company can now deliver high-quality flexo plates for the broadest range of applications, from labels and flexible packaging to corrugated boxes and displays.
"Our experience with the larger ThermoFlexX 60 has been great and it was very easy to integrate into our Esko workflow. Having put a few thousands laser hours on the machine already, the technology has proven itself, and with 5080dpi, we know we can make the best quality plates, which will deliver exceptional print for our customers," says founder and CEO Zain Fazal.
He continues, "We are considered the best in flexo plates in the country, so customers expect the highest quality and great service from us. That puts extra pressure on us, but I see that as a good thing, because it means that as we are continuously improving and investing in the best equipment."
Growth through trust and partnership
The partnership with Flint Group Flexographic, which is now part of the newly established XSYS division, goes right back to the beginning. "The plates that were available in Pakistan when we first set up business were simply not good enough for what we wanted to achieve," explains Fazal. "We knew that the demand for higher quality would grow, so we approached Flint to discuss importing their plates ourselves and they agreed."
The cooperation has been beneficial to both parties. Digital Process grew exponentially in the first three years to become the largest platemaker in the country. "Our first import order with Flint was way below their standard MOQ, but Regional Business Manager Roy Schoettle took the initiative and supported us. As a result, Flint's market share in Pakistan also multiplied in the following years."
Working with reliable partners that can provide timely support has been key to the success of Digital Process. Fazal says, "Flint is the one company that we have been very happy with. Despite the instability in Pakistan until a few years ago, Flint has always stood by us and provided all out support."
Quality build and consistent quality
Since the second-generation ThermoFlexX imagers were introduced in 2015, over 300 machines have been installed worldwide. All machines are designed and built in-house, which according to Christophe Lievens, Director of Sales & Marketing Prepress at XSYS, "puts us in a unique position so that we can immediately respond to requests from customers or to fundamental industry changes."
The imagers are known for their high-quality optical system, solid build and versatility. Another highlight is the ease of use and simple design, which features automatic loading and unloading of plates at the touch of a button. Exceptional productivity and clever innovations ensure waste is kept to a minimum, while the ThermoFlexX screening technology produces smooth transitions, excellent solids and fine details in line-work.
"We chose the ThermoFlexX TFxX 48 first and foremost because of the quality," says Fazal. "We compared machines from several manufacturers and found that the build quality of this machine is solid, which means you can run it at top speed without any variation in imaging quality. This is vital as it means we can rely on it to produce accurate and consistent quality around the clock."
Speaking specifically about the ThermoFlexX team, he says, "I personally feel that there are some very dedicated people working on the hardware and software in Belgium. It is clear that they are keen to make better machines and capture a larger market share, but they don't try make more money in parts and consumables as is so often the case."
Remote support key during crisis
Even before the pandemic, XSYS already had a robust and comprehensive remote support system in place. Each ThermoFlexX machine comes fully equipped with remote support capabilities as standard for full diagnostics and fault-finding. No matter where in the world customers are based, they have easy access to the XSYS engineering team, who can guide them through any issues. As a result, Digital Process could go ahead with the machine installation despite the COVID-19 restrictions and add the much-needed capacity to their busy platemaking operation.
Yves Vanryckeghem, XSYS Technical Manager APAC, says, "This installation was only possible thanks to our advanced remote tools, which enable us to set up and calibrate the machine without ever being on site. ?There are no special tools required to check laser focus, power and beam quality as it is all built into the machine. ?This saves a lot of time and money for our customers."
"Yves ran all the tests and configured the machine while sitting in Singapore," Fazal recounts. "He monitored the whole process and even supported us over the weekend, so no time was wasted. To be up and running in just three days during this global crisis is just amazing!"
He concludes, "The whole experience has been incredibly smooth, and it has given us a sense of security that should anything go wrong during the pandemic, we can rely on XSYS for full support. Most importantly, our goal to provide high-quality plates and faster service has been achieved."
For more information about the new XSYS division of the Flint Group, please visit www.xsysglobal.com or contact [email protected].