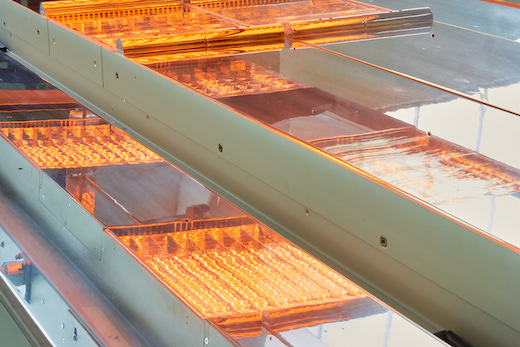 Thanks to the company own developed and widely patented advanced NIR (aNIR®) drying technology from adphos, now inkjet printing solutions can be offered that closes the gap with analog offset printing.
aNIR® enables inkjet printing that offers offset quality at a speed of 150 m/min on glossy papers with high ink coverage at top speed.
All that at costs lower than offset at higher run-length as in the past.
The aNIR®-drying technology allows an ink, ink coverage, substrate, material and format dependent intrinsic dryer power adjustment. So lowest, today's dryer power configurations and lowest thermal stress to the printed substrates are given and otherwise todays given wavy and dried-out printed products are avoided, also high cooling and even any remoistening is not needed anymore with aNIR®.
Possible extreme compact aNIR® dryer solutions can be even provided as upgrade or replacement dryer kits in existing inkjet presses to gain the above outlined user benefits.
Please contact for further information:
[email protected]
www.adphos.com