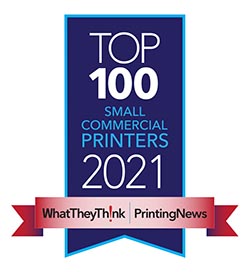 Every year, WhatTheyThink | Printing News identifies and profiles the 100 top small commercial print providers in North America based upon annual sales volume. 2020 obviously had its challenges—but how did your shop fare?
To be considered in our Top Shops listing, please complete our short survey about your business. This will take approximately 10 minutes to complete. Businesses in North America having $25 million and under in annual revenues are eligible.
The Top 5 winners will be profiled in our June 2021 issue of WhatTheyThink | Printing News and will also be invited to participate in a complementary LunchNLearn Webinar.
All ballots must be completed by April 23, 2021, so complete the survey now!