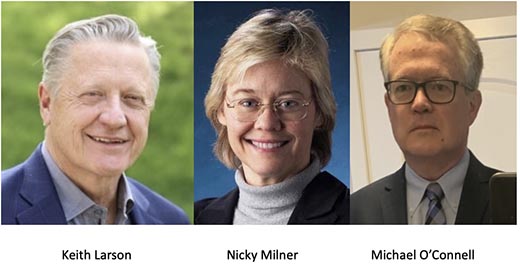 International leader Keith Larson, transformational technology specialist Nicky Milner, and business operations expert Michael O'Connell join the team
Toronto, Ont. – To meet the demands of its growing customer base, Connecting for Results Inc. (CFR) has engaged industry experts Keith Larson, Nicky Milner, and Michael O'Connell to join its team of consultants. The addition of these three new specialists enables CFR to further expand its offering by providing leadership expertise, digital media consulting, and operations management services to clients across North America, effective immediately.
With the firm's recent expansion into the US market, CFR welcomes Keith Larson to lead operations in the United States. A global print leader, Keith has previously held C-suite roles, including CFO and CMO, for print management and distribution company, Cenveo, and leadership roles at Bertelsmann and other global firms. He has also acquired several companies and successfully integrated them. Keith bring his expertise in sales, finance, operations, human resources, startups, and engineering to CFR clients.
Assisting printers with the digital side of business, Nicky Milner provides clients with digital media and production technology services. An expert in business transformation through technology, Nicky has had a successful leadership career with Quebecor World and Transcontinental. She has extensive experience in information technology, content production and prepress, digital printing, program and project management, and can assist CFR clients to achieve their business goals in the areas of production technology, operations management, and digital media consulting.
An expert in business operations, Michael O'Connell has vast experience in mergers and acquisitions and business ownership in the printing industry. He brings decades of experience to the team in the areas of operations management, recruitment, mergers and acquisitions, accounting, and finance. Michael has a track record of increasing profitability through the addition of costing systems, standards of performance, and quality control throughout printing facilities. He can help CFR clients with profit maximization and performance optimization.
"I'm very pleased that Keith, Nicky, and Michael have joined our team," said Gordon Griffiths, CEO, Connecting For Results and Connecting For Results Corp. "With the skills and expertise that these three bring to Connecting For Results, we can maximize the offering for our clients, especially during this pivotal time in the industry when their experience is needed most."
"I'm happy to join Connecting For Results," said Keith Larson, Principal Consultant, Connecting For Results Corp. "I'm excited to be working with this team of industry experts, and helping the organization to grow by helping customers achieve their business goals."
"There is a great team and very compelling value proposition for clients at Connecting For Results," said Nicky Milner. "I'm looking forward to helping our clients maximize their returns and grow their business by leveraging digital technology."
"I'm excited to be working with the team at Connecting For Results," said Michael O'Connell. "I look forward to assisting CFR clients to find creative solutions to their business objectives, and helping their businesses to grow."
Led by its principals, Gordon Griffiths and Bob Dale, CFR is uniquely positioned to bring buyers and sellers together in a way that builds value and maximizes the results for all parties. Leveraging their in-depth and extensive industry knowledge, with a time-tested methodology, company experts develop and implement winning strategies for planning and executing print management, mutually beneficial acquisitions, and effective management of the transformation required to integrate merging organizations.