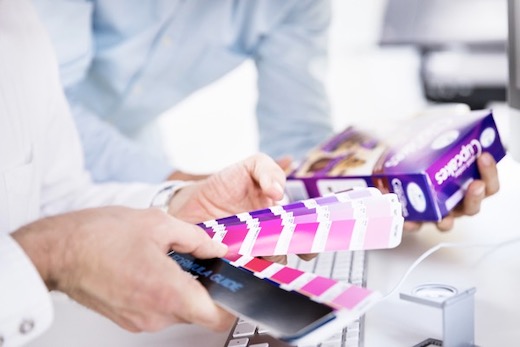 Hingham, Mass. – GMG, the leading developer of high-end color management solutions announces that it is a sponsor and an active participant in the FTA FORUM/INFOFLEX 2021 Conference, to be held online May 11-14 and May 18-21 from the FTA's Virtual Conference Center. As part of their involvement, Rick Guebert, GMG Americas Director of Sales, Southern Region, will be a session chair at the event. "Showcasing Emerging Products", scheduled for 1:30-3:00pm on May 11, features a roster of speakers exploring the latest emerging products available today and how they can improve production. In addition, Marc Levine, Director of Business Development, GMG Americas, is presenting "Where did my color go?" during the Advanced Color Theory session.
Themed "Prosper Through Efficiency," FORUM 2021 will show flexographers how to make every step of their workflows more efficient. Sessions and presentations will feature a mix of technical and practical content, real-world examples and anecdotes, and actionable takeaways. Throughout, attendees can participate in live polls and ask follow-up questions.
"Rick and all the chairs have designed their sessions to take advantage of this interactivity as a way to enhance the delivery of FORUM's technical content," says said Joe Tuccitto, FTA director of education. "FORUM is not a sit-and-stare conference—it's fully interactive. Audience members can vote in polls, take notes on presentation proceedings and pose their own problems during live end-of-session Q&As. It checks all the boxes for an unsurpassed attendee experience."
Levine's presentation, "Where did my color go?" will be delivered during the Advanced Color Theory track on Wednesday May 12, from 9–11am. Levine will explore how colors are specified, matched, and communicated across the supply chain. He will also discuss how colors can sometimes lose their way and how to keep them on track. The session will include information about the digital exchange of color; the visual exchange of color; print feasibility; and spectral data, colorimetry, and metamerism.
GMG experts available for one-on-ones from May 12 to 20.
FTA INFOFLEX 2021 attendees will also be able to connect with GMG, a virtual exhibitor, for one-on-one meetings from May 12-20. Anyone can visit GMG to video conference with technical experts, see product demonstrations and ask specific questions.
GMG will be focusing on a number of new technologies, including:
GMG ColorCard: A 2020 InterTech Technology Award recipient and a 2020 Label Industry Global Award for Innovation winner, GMG ColorCard produces digital ink drawdowns—accurate color samples on specific substrates, but shown digitally, rather than from a traditional process. It allow users to create drawdowns in less than three minutes, saving up to 90% of the time that is currently required for conventional production. Reliable and color accurate results that can be reproduced with one click.
GMG ColorServer Multicolor: In packaging, digital printing has become increasingly important. Instead of using spot colors, brand colors must be displayed with a fixed ink set. GMG makes it easier to connect GMG ColorServer and GMG OpenColor, an innovation that enhances process reliability and stability. To achieve consistent results across all processes—digitally and conventionally—jobs can print on any press available, delivering welcome flexibility in the pressroom. GMG ColorServer Multicolor achieves increased vibrancy in images while accurately matching brand colors and saving time and money.
GMG ColorProof GO offers remote proofing, delivering consistent, reliable print results, independent of location. Data handling via a browser assures easy administration and distribution of data. All proofing systems and printers can be monitored and managed at any time and any place.
GMG is available for conversations about any product in its portfolio. For example, GMG ColorProof has been the preferred solution for efficient and safe contract proofing. GMG OpenColor software, a past recipient of the FTA Technical Innovation award, is always a GMG highlight. With the increasing use of multi-color printing and different combinations of inks, substrates, screening and other variables, packaging printing involves many color fingerprints and profile tweaking.
"Because of the significant part color plays with packaging and flexography, GMG always views FTA events as some of the most important of the year," explains Levine. "As a sponsoring participant, we look forward to contributing our knowledge, not only during Rick's 'Showcasing Emerging Products' session and my presentation about trusting color, but also during one-on-one conversations."
For more information about GMG, please visit www.gmgcolor.com. Those interested in learning more and registering to attend FTA FORUM, can do so at forum.flexography.org.