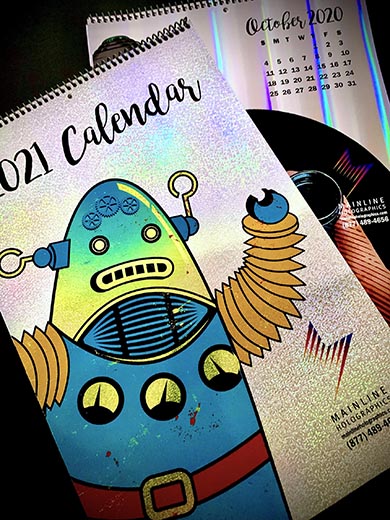 Topeka, Kan. – Mainline Holographics launched a new art competition to showcase the most creative and unique visions of the future.
Each winning entry will be printed on holographic board and will be compiled together to make up a calendar for 2022. Up to 14 winning entries will be selected, one for each month, as well as one for December of 2021 and a cover.
It's been a difficult past few years for businesses across the globe," says Mainline Holographics' Marketing Director Kim Guarnaccia, "so it's the perfect time to look toward the future."
The calendar competition will showcase the most creative perspectives of our future, whether it be retro Steampunk, UFOs, robots, or a Blade Runner-like dystopia. Holography is often seen as a cutting-edge technique, says Guarnaccia, which makes it ideal to combine with futuristic imagery.
Artists, designers, and illustrators can submit up to five designs at 11" x 17" size and each entry is FREE. Each winning artist will be publicized within the calendar, on the Mainline website, in trade magazines, and on social media. Winners will also receive free copies of the printed calendar and a frameable awards certificate.
"Few artists know how well holography augments a design or illustration, as they've had little or no chance to experiment with it," explains John Tillinghast, National Sales Director at Mainline. "By printing their work on a colorful holographic background, competition winners will not only gain a wider audience for their work but also have the opportunity to play with this phenomenal medium."
Entry deadline is June 1, 2021.
For submission guidelines and other key dates, visit: www.mainlineprinting.com/competition/. Questions can be emailed to [email protected].
Mainline Holographics has provided holographic board, paper, and labels to the print and packaging world for the past two decades. With over 60 patterns and the ability to custom design a pattern, logo, or image inhouse, the holographic experts at Mainline are the most accomplished technicians in the industry. For more info or to see a list of the available patterns, visit www.mainlineholographics.com.