The Road to Sublimation Success by David Gross and Steve Spence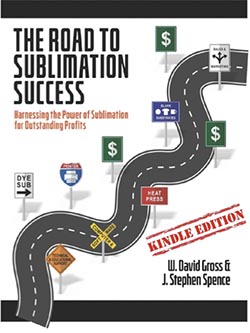 Sunnyvale, Calif. – Graphics One is pleased to announce the availability of The Road to Sublimation Success: Harnessing the Power of Sublimation for Outstanding Profits by David Gross and J. Stephen Spence.
As the first book on the sublimation business, this 290-page handbook of how to achieve continuing profits in the sublimation business is a must read from two of the industry's founders and experts. Gross and Spence provide detailed information covering:
· How to start a sublimation business
· Glossary of industry jargon
· Developing a sublimation business plan
· What it takes to be profitable
· How to source sublimatable products
· Determining which products are popular
· Operational tips and tricks when sublimating "During the past 30 years I have literally spoken with thousands of new sublimation users who thought the sublimation business was too complex or hard to be successful. This book is written with those newbies in mind or those that desire to expand their businesses. Some think the sublimation business is just too challenging, but we have shown with a good plan virtually anyone can become profitable in this business," stated Gross.
Dan Barefoot, Vice President of Graphics One explained, "David has been such a strong advocate and leading voice for sublimation for many years it made sense for us to participate in the distribution. We are happy to offer this outstanding resource for decorators to our customers."
Graphics One will be distributing this book via it extensive distribution network. Additionally, the book is available in both written and Kindle format from Amazon.