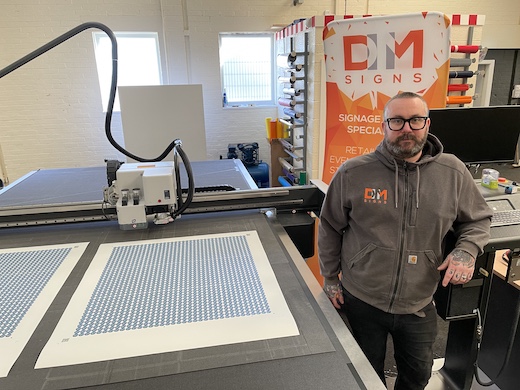 DMN Signs' Jamie Collins
New Mimaki JFX 200-2513 EX Flatbed and Kongsberg X-44 from CMYUK
CMYUK, Shrewsbury – Wigan-based DM Signs has invested in new printing and finishing equipment from CMYUK. The family-owned firm has upgraded from an older Mimaki flatbed to the latest JFX 200-2513 EX model, and making the leap from a Summa f series cutter to a Kongsberg Esko X-44 digital cutting table. This equipment joins their existing Mimaki UCJV300-160 UV roll-to-roll printer as part of a major upgrade in capacity and capability coupled with a relocation to larger premises.
DM Signs has been established for over 40 years with its' history linked to many local icons such as Wigan Athletic, Wigan Warriors, Uncle Joe's Mint Balls, and even Wigan Casino back in its heyday. The current management team of Jamie Collins and Andy and Joyce Hudson purchased the business ten years ago and have grown it steadily through the addition of new products and expanding what they can offer to current and prospective clients.
A key focus for DM Signs is large format stadium signage including pitch side advertising, executive offices, hospitality areas and exhibition spaces. Beyond its sports clients, the company also services a wide range of customers in the North West and UK wide across healthcare, education, automotive, retail and hospitality sectors.
"Our clients come to us because we pretty much do everything," says Andy, "they trust us with their brand identity, and we work hard to offer exactly what they need whether we manufacture in-house or work with our partners. This spans everything from signage and vehicle graphics to branded workwear and corporate stationery.
"Companies such as SYNETIQ, the UK's largest auto salvage dismantling and recycling company come to us to ensure consistency of their brand at locations across the UK and covering multiple applications across their transport fleet, site signage, health and safety signage, workwear and PPE, media boards for online advertising, merchandise and promotional materials and stationery. We also support their Green Parts (recycled parts) by producing warranty labels on destructible vinyl to ensure that customer claims are valid. Since using these labels, they have seen a marked reduction in fraudulent claims," he says.
Investing in the future
The purchase of its new printing and finishing equipment from CMYUK corresponds with the company's move into larger premises. This is the third time DM Signs has relocated in a decade, representing a confident start to the next chapter in the company's history.
The company's growth in Lockdown led to the purchase of new 700 sq.m premises. "We really had two choices," says Jamie, "either shut up shop and try and wait it out or see what we could do to support our clients."
With customers in key industries, DM Signs found it was inundated with the demand for covid safety screens and signage, winning contracts with the NHS as well as supplying local businesses.
This demand pushed the company to its limits in terms of machine capacity and physical space. "We had steadily been growing out of the unit we were in, but this took us over the edge," says Jamie. "We needed somewhere large enough for customer vehicles as well as increased space for manufacturing and finishing."
New equipment, new possibilities
The company relocation gave DM Signs the chance to review its existing production equipment. "We took the decision to upgrade our Mimaki JFX 200 to the JFX200 EX. We were very happy with the capabilities of the flatbed but the upgraded version has given us extra speed that increases our production capacity," says Andy.
The purchase of the Esko X-44 was an obvious choice. "Esko has an excellent reputation. Its' tables are very well designed, and easy to use," he says.
The Kongsberg X-44 has a working area of 2210 x 4800mm enabling the company to maximise what it manufactures in-house and enables them to expand their product range even further, producing everything from sign trays to bespoke packaging.
The CMYUK factor
DM Signs visited CMYUK in Shrewsbury for a COVID-compliant demo. "The demonstration centre is a really impressive facility," says Andy. "Apart from looking at the capability of the machinery, we were also able to look at the what Esko software can bring to the workflow. CMYUK recommended the use of i-Cut software, which has helped us streamline our workflow."
Instant benefits
DM Signs has felt the immediate impact of its installations. The combination of its print and finishing facilities has already doubled its capacity and throughput, allowing it to work to even tighter deadlines and shorter timescales. Next on the agenda is the promotion and use of greater eco-responsible materials such as PVC-free Kavalan from CMYUK.
"As businesses reopen, they will want to refresh their environments. We want to be able to help them do that in a more ethical way, so we'll be looking at new environmental materials that we know the machinery can handle," says Andy.
Looking ahead DM Signs will be extending its bespoke packaging solutions and plans to improve its partnerships even further by providing its larger clients with their own microsites, allowing them to directly order their own branded products.
Says Andy, "We'll continue to drive the efficiency of our workflow combined with our new equipment and location, providing even faster turnaround times, and even greater value for money."