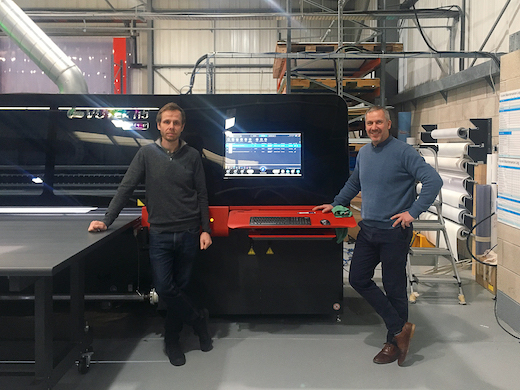 David Lister, Sales Director (left) and Adrian Rushton, Managing Director
Increased speed and productivity for an overall lift in efficiency
CMYUK, Shrewsbury – MX Display in Derbyshire has installed an EFI VUTEk h5 from CMYUK. This new hybrid LED printer replaces the company's existing EFI VUTEk GS3250LX Pro 3.2m, and due to its industrial print speeds, is set to increase capacity by 50%. The h5 joins a plant list that includes HP Latex technology, Mimaki and Epson dye sublimation printers.
"The h5 was always the front runner. We toyed with several flatbeds and roll-to-roll machines but our other hybrid worked well for us," says David Lister, Sales Director, MX Display. "We wanted to increase capacity, up production speeds and become generally more efficient."
Twenty-five years and counting
MX Display has been in business for over 25 years evolving from a photographic house into a high-end design, producer and installer of printed graphics and signage. It has a long reach, working with many blue-chip companies and creative agencies, offering a host of solutions such as floor, wall and window graphics, acoustic solutions, fabric displays, portable displays, signage and wayfinding. It services multiple market sectors including leisure and tourism, heritage, exhibitions, events, corporate branding, construction, retail, education and healthcare.
"We're quite broad in what we offer. We are very installation-based and special projects are key to what we do. We're in the high-end of the market, delivering quality work which is often viewed very close up," says Dave.
MX Display is a fabricator working with sheet metals, wood and MDF for joinery making. It specialises in producing multi-layered complex prints as well as engraving and infilling. It also operates trade services for dye sublimation and finishing.
h5 capabilities
The h5 has the versatility and the power to cope with the top end work demanded by MX Display's clients. It's the result of EFI VUTEk's reimagined and reengineered high-volume super-wide, hybrid inkjet platform. At 3.2m wide, a resolution of 1200dpi, eight colour modes plus white, it offers a nine-layer print capability – all in a single pass. It offers super smooth shadows, gradients and transitions, with superb, clear text quality close -up.
Encapsulating powerful LED technology, the h5 supports an extended range of substrates, which includes lower cost and added-value speciality materials, all of which can be handled by automated loading, stacker systems and super duty winders.
According to a Fogra study, the h5 drives down operating costs with up to 82% less energy consumption and fewer consumable parts. For MX Display, this eco consideration is very important, in line with its increasing environmental focus.
Eco products
MX Display is committed to offering sustainable solutions and is currently evaluating new materials from CMYUK's Eco range. "We're pushing people towards products made from recycled yarns where possible," says Dave.
Rather than the company suggesting to its clients that they should try eco materials, what has started to happen is that customers are specifying such materials themselves. Along with other high-profile Print Service Providers in the UK that have recently announced a migration to greener materials, Dave believes it's only a matter of time before eco-responsible products become the mainstream.
However, he points out that with middle men the focus is still very much on margins, and for a recent job even though the eco-responsible alternative was minimally higher in cost, the traditional material was still chosen.
"The more we can make people aware of these materials, clients will specify it.
If we talk to end clients rather than the margin-driven middle men about the benefits of these materials, the take-up would be faster," he says.
Lockdown and beyond
Like many companies. MX Display went into overdrive during Lockdown creating large volumes of floor graphics, safety signage and acrylic screens. However, while its usual slew of early year campaigns were paused for obvious reasons, the company is happy to report that normal work levels have now resumed.
"At the moment we're seeing many business sectors preparing to re-open," says Dave. "We've come out of this leaner and more efficient thanks to our new equipment. We are ready for all the new positives out there."