New Berlin, Wis. – Eagle Systems, Inc., a U.S. based developer and manufacturer of foil enhancement equipment, today announced that Crossmark Graphics has installed an Eco-Eagle Cold Foil Module on their 2018 KBA 40-inch Rapida 106 press in their New Berlin, Wisconsin plant. The installation, which was completed last fall, at the height of the pandemic, in August 2020.

"At Crossmark, we have a history of going above and beyond the call of duty," notes Jim Dobrzynski Sr., Crossmark Founder and Consultant "As we like to say, 'If better is possible, good is not enough.' I can sleep tonight knowing it's done right. I remember one vendor remarking, after looking through our trash bin, 'What you're throwing away, most printers are delivering to their customers'. It's this dedication to better that drove us to Eagle Systems."

The 55+ employee commercial printer serves many of the finest and most demanding American retail, automotive, travel and leisure, pharmaceutical, and corporate marcom brands and marketers in the nation. Founded in 1987, Crossmark offers a full spectrum of services, including: creative development, pre-press, large format digital, small- and medium-format litho, on-demand printing, lenticular, bindery, promotional giveaways, wearables, fulfillment and more. From direct mail and promotional kits to retail signage and packaging, Crossmark has a long history of meeting demanding, and time-sensitive promotional needs.

"Due to the pandemic, we held off installing the Eagle System until later in the summer last year. We wanted to do what was right for our people. But the decision has been made much earlier. We talked with many users who were more than delighted with their choice. In fact the only unsatisfied cold foil operations we spoke to were the ones who now wished they had chosen Eagle. To be clear about it, Eagle really stands behind their systems. It's consistently reliable, easy to operate, and their quality is outstanding. It's one of the most valuable value-add tools we've ever installed.

"Every single day, we have the same goal: to make it easy for our clients to stand out among their target audiences. Tight deadlines? Confining budgets? Last-minute changes? Yes, yes and yes… every day. We're up to the challenge of making the impossible happen, but to do so you need the right tools. In mere months, Eagle has not only proven to us their value, but the value of Cold Foil technology. We've slashed time to market, and enhanced the quality of the product going out the door. We've noticed and the clients have noticed. It's been a wonderful partnership."

"The Best Year Ever"

"While many are still lamenting about the year that was 2020, at Eagle we experienced our best year on record," said Mike King, President and CEO, Eagle Systems. "Globally, the industry has continued to realize a rapid adoption of cold foil. Add to this our growing track record of reliability, adaptability to most presses, and a user-friendly interface, and it just makes sense. Especially in downtimes, the need to differentiate becomes even more critically necessary. Cold Foil delivers service providers with an innovative option that transcends the demands of their most high-end customers. Simply stated, it gives them the ability to say 'yes' to more projects, with less time and money required to make it happen."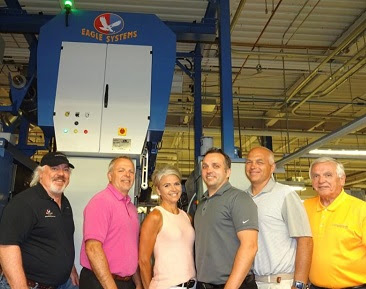 Eagle Systems CEO, Mike King (Far Left) celebrates the installation of the Eagle Cold Foil system with Crossmark Graphics' management team (L to R: Mark Dobrzynski, VP-Sales; Tammy Rechner, President; Brian Dobrzynski VP-Purchasing; Jay Dobrzynski VP-Manufacturing; Jim Dobrzynski, Consultant).