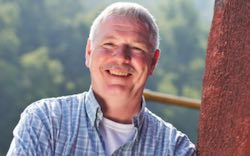 Tyrone, Pa. –American Eagle Paper Mills' President, Scott Igoe, has been selected as one of Pennsylvania Business Central's Top 100 People for 2021. Pennsylvania Business Central annually highlights the Top 100 People in business and economic development who have made a dynamic and significant impact on their organizations and communities. Scott is being honored for having made a positive impact on the business community by consistently moving the business forward, adapting to major changes in his personal and professional life, and giving back to the community through volunteering or mentoring. "I am extremely honored to have been selected," said Scott. "I am in the company of some exceptional people, and I know I am here because of some exceptional people. My team at the paper mill earned this award, too."

Scott began his tenure with AEPM as a production engineer in 1987, with a B.S. in Chemical Engineering from the University of Maine. Scott assumed greater responsibility by leading efforts to resurrect the idled paper mill. Scott's contribution to the mill was rewarded in 2007 when he was promoted to Executive Vice President of Operations. In 2020, Scott added finance and administrative duties to his list of responsibilities when he assumed the role as President.

Nominations for this prestigious recognition are solicited from community leaders, local chambers of commerce, and loyal readers of the PA Business Central publication and social media across the 23-county service area in central Pennsylvania. Top 100 People has been an enduring and popular edition in Pennsylvania Business Central since 1991.