Simplicity of use, hygienic dispensing of product, improved recyclability – drivers for both brands and consumers to make the switch
Bologna, Italy – V-Shapes, an innovative supplier of vertically integrated products and services for convenient, hygienic and sustainable single-dose packaging, today reported that Orlandi Inc., a global organization headquartered in New York with four manufacturing facilities and three labs in the U.S. as well as sales offices in Brazil and Paris, is an early adopter of V-Shapes' unique packaging solution for single-dose powders and liquids that can be dispensed using one hand. It produces fragrance and cosmetics samples, passive air freshening for home and auto, and offers contract packaging services as well as digital direct to consumer marketing.
Most recently, Orlandi has added a V-Shapes ALPHA automatic packaging machine to its production platform for manufacture of unique, sustainable, and convenient single-dose packaging solutions for its own packaging operation and well as for contract packaging use.
"We have known Christian Burattini, CEO of V-Shapes, for more than a decade," said Philippe Ughetto, Senior Vice President at Orlandi France, "As he was developing the concept for V-Shapes, he reached out to me, and we decided this new technology was of interest to us. We initially entered into an agreement for distribution of V-Shapes monodose sachets and equipment in France for cosmetics and beauty products, and then acquired the equipment for production and contract packaging in North America."
V-Shapes sachets are a brand-new way to safely, affordably, and sustainably deliver single-dose products from hand sanitizer and cosmetics to honey and more. These recyclable single portion sachets can be printed on the top and/or bottom sides in multiple languages with customized brand messaging and use instructions. They represent a new and innovative way to distribute single-dose liquid and powdered products. Up to 98% of packaged product can easily be dispensed using just one hand, resulting in little product waste and no mess or spillage.
Orlandi's V-Shapes ALPHA was installed in late 2019, and the pandemic that hit in early 2020 brought the company's sales and education efforts to a near halt. Sven Dobler, CEO, said, "Part of the strategy was manufacturing samples that retailers could hand out in the stores, but with the pandemic, that became very difficult because of traffic drop in retail stores. Our first major launch happened the week of March 19th, and that's when all the chaos broke out. We repositioned ourselves during COVID to offer hand sanitizer and in fact have developed our own brand, KleanTouch™, that we will sell directly to consumers. It's a wonderful product, can be opened with one hand, and there has been great interest in it. Once we are past the pandemic, we will be able to put our ALPHA to full use once again for our cosmetics customers."
Working with V-Shapes has been a terrific experience, according to the Orlandi team. "The installation was very smooth," Dobler recalled. "We actually went to Italy for a validation demonstration of the ALPHA prior to it being shipped. Once installed, they continued with their exceptional support and partnership."
Per Dobler, Senior Vice President, stated, "V-Shapes is not simply an equipment manufacturer. They continue to develop new materials and new capabilities and have built a global network of contract packagers. In my experience, typically after you buy equipment, you are kind of on your own. With V-Shapes, you are part of a global network, and there is a coordinated global strategy behind it, so they are much more than a machine manufacturer. They are a true business partner that is interested in helping us grow in innovative ways with products that protect people and the environment, while giving people an easy-to-use and hygienic way to dispense single-dose products."
To read the full story and learn more about products and services from V-Shapes, visit www.V-Shapes.com.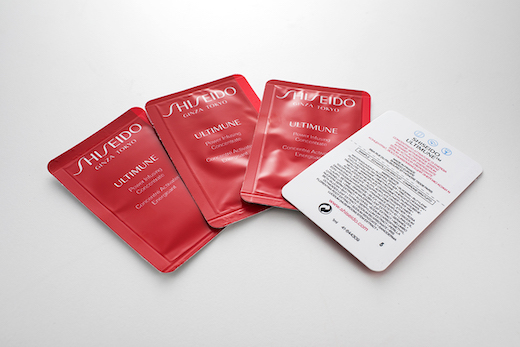 Shiseido Skincare is taking advantage of Orlandi's V-Shapes packaging to expand brand awareness in Europe through sampling and magazine insertions.