Kocher + Beck USA, L.P., the market leader in rotary die cutting technology, is pleased to announce the promotion of two key employees as the company continues to grow and expand in the Latin American market. Jackie Barbour has taken on the newly created role of Business Development Manager for Central America, and Amin Silva Yedra, who directs the company's sales in Mexico was named Executive Sales Manager of Mexico and South America.
Barbour joined Kocher + Beck in 2015 as a Bilingual Customer Service Representative. Over the years her role grew into an Account Manager role, as Kocher + Beck expanded more in the Latin American market, making her the ideal candidate for promotion.
Silva joined Kocher + Beck in 2010 as a Regional Sales Manager after the acquisition of American Die Technology. Through his continued efforts to expand the market from Mexico into South America, Kocher + Beck is pleased to announce his promotion.
"Kocher + Beck continues to grow and deliver on our long-term strategic plan," said David Morris, Chief Executive Officer of Kocher + Beck USA, L.P. "These promotions are a great reflection of our team expanding and positioning our company for the future."
https://www.kocher-beck.com/en/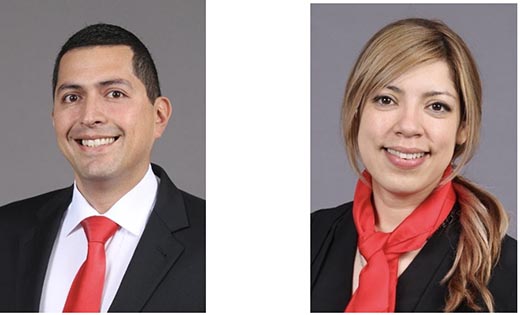 Left: Amin Silva Yedra, Executive Sales Manager - Mexico + South America
Right: Jackie Barbour, Business Development Manager - Central America