Top 30 and Honorable Mentions Recognized
Ramsey, N.J. – Konica Minolta Business Solutions U.S.A., Inc. (Konica Minolta) is proud to announce its inclusion in DPS magazine's 10th Annual Reader's Choice Awards. Each year, the publication publishes the awards, which feature the top 30 companies and five honorable mentions as determined by its editorial/advertising tracking system.
Using the website metric system, DPSmagdirect.com, the publication calculates its reader's interest in companies throughout the year. This is done via requests from editorial and advertisements found in each printed issue as seen in the magazine, on the website—dpsmagazine.com, or in DPS magazine's weekly eNewsletter.
"Konica Minolta had an exciting year of new product launches in 2020, including the AccurioJet KM-1e B2+ LED UV Inkjet Press, the AccurioPress 4080 high-speed digital press and the AccurioShine 101 desktop digital embellishment solution," said Dino Pagliarello, Senior Vice President, Product Management and Planning. "We pride ourselves on staying ahead of the trends in the production print segment, and this acknowledgement by DPS confirms we are building products that meet the needs of the market."
"Every year, we look forward to seeing what companies and products our readers are most interested in to help us formulate our coverage for the year. The annual Reader's Choice are a great representation of the organizations and solutions that continue to push our industry forward—even in difficult times," says Cassandra Balentine, editor, DPS magazine.
Visit DPS Magazine online to read more about the 2021 Top 30 Reader's Choice Awards. It is released in the January issue, as both a print and the digital publication, the issue was distributed on January 10, 2021.
About Konica Minolta
For more information, please visit us online and follow Konica Minolta on Facebook, YouTube, LinkedIn and Twitter.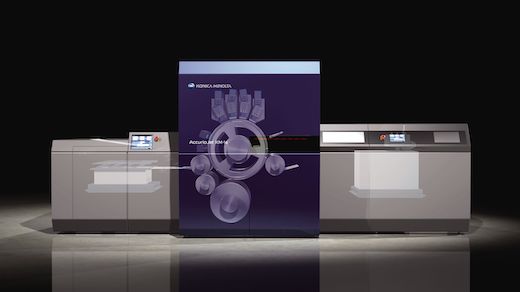 Konica Minolta's AccurioJet KM-1e B2+ LED UV Inkjet Press