Toronto Ont. – The Board of Trustees at Canadian Print Scholarships is saddened by the passing of industry veteran Don Gain at the end of December.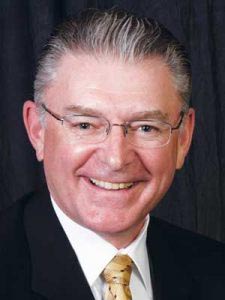 As a passionate supporter of the printing industry in Canada, Don served in many volunteer positions including nearly 15 years of service to Canadian Print Scholarships. He became involved in 2002 as a Trustee and within 3 years accepted the role of Chair of the Board.
Under his guidance, the organization thrived, and hundreds of students continued to receive Canadian Printing Industries Scholarships during a period of difficulty for the industry and its associations.
He received numerous awards for his service to the industry, was Chair of the Canadian Printing Industries Association, served on the Advisory Board at Ryerson University and was instrumental in development of the Heidelberg Centre for the Graphic Communications Management program at the school.
Don was President and owner of Harmony Printing for 28 years until he retired in 2016.
"I am proud and honoured to have called Don Gain my good friend and esteemed industry colleague. He was an outstanding person who will be sorely missed, a man who has left his indelible mark on the Canadian print industry. Don was tirelessly dedicated to improving and helping the industry on several fronts, and in his own quiet way, went about contributing his time, energy, passion and commitment to ensuring a strong, vibrant future for us all." said Jeff Ekstein, Chair, Canadian Print Scholarships.
To honour Don's industry leadership, Canadian Print Scholarships is establishing a fundraising campaign to create a scholarship named for him.
We're delighted to announce that the following companies have already contributed to the campaign – Willow Printing Group, CJ Graphics, Advocate Printing and Publishing, Connecting for Results Inc., and Frank's Maintenance Products.
"Don Gain was one of those kind-hearted souls who made great contributions to our industry expecting nothing in return except to share his knowledge to help others. I was able to speak with Don shortly before he passed and thanked him for his contributions to our industry especially the scholarship funds and his time mentoring and helping young people. I'm honoured to contribute to this Memorial Scholarship," added Jay Mandarino, President of CJ Graphics.
"Don Gain was a future focused leader with a passion for education and the youth aspiring to lead the industry he loved. A mentor to many and a friend to all, he championed the Canadian Printing Industries Scholarship Trust Fund with contagious passion, a big smile and magnetic charm. His leadership changed our industry, I am humbled to support this lasting recognition of his leadership," said Sean Murray, President of Advocate Printing and Publishing.
The fundraising goal is $30,000. Donations can be made on-line at https://www.canadahelps.org/en/dn/58501 or by contacting [email protected].
The mission of the Canadian Printing Industries Scholarship Trust Fund is to attract the brightest and best students available to the graphic communications industry by providing financial assistance to enroll and continue in a post-secondary management or technical program at an approved institution.