Bean Station, Tenn. – FILMtech Inc., a leading supplier of clear and metallized barrier films, announces the application of their new SEMG™ process for enhancing adhesion and barrier of metallized films. The SEMG™ process is applicable to all films (blown, cast or Biax oriented) independent of the film's manufacturing process.

Currently, FILMtech has three metallized products available utilizing the proprietary technology – a metallized OPP (FT 709) and two metallized PET films (FT 164 and FT 264). Films undergoing the SEMG™ process exhibit enhanced barrier properties and adhesion values in excess of 1,200 grams.
"Over the last four years we have invested in state-of-the-art metallizing equipment and this has provided a development platform for modifying the surface of various polymer films, which has resulted in our process called SEMG™," said FILMtech's engineering manager Paul Ghejan, Ph.D.
FILMtech, founded in 2001 as a manufacturer of metallized films for the packaging and converting industries, has grown to provide products and services for the food and pet food packaging, construction, agricultural, aerospace, printing, labeling and industrial tapes markets. It is the exclusive North American licensee of CeramAlox® clear barrier products.

Located near Knoxville, TN, FILMtech's manufacturing facility is strategically located near major shipping and receiving hubs and is less than a day's drive from 70 percent of major U.S. markets.
For more information on SEMG™ or FILMtech, go to www.filmtechinc.com or contact Dave DeAngelis - VP Business Development at [email protected] or 865-767-3533, Ext 113.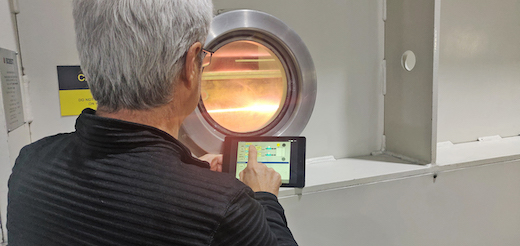 FILMtech's engineering manager Paul Ghejan, Ph.D. observes the SEMG™ process.