MAXSON AUTOMATIC MACHINERY COMPANY (Westerly RI) offers a quick response grinding service for sharpening sheeter cross cutting knives of all manufacturers.
Upon receipt from the Customer, all knives undergo an immediate six point inspection process to identify knife thickness, material composition, parallelism (ability to maintain back edge and knife edge to within 0.004", flatness (ability to flatten to within 0.002"), the condition of cutting edge (examine for excessively deep nicks) and the condition of non cutting surfaces (examine for excessive marring of knife seating surfaces).
Using a CNC knife grinder, cross cutting blades are precision ground to insure parallelism and edge retention, manually de-burred and then honed to a mirror smoothness. The result of this quality program is a pair of knives that are sharp and smooth, create less friction cutting through material (cleaner cut) and easier for Operators to seat, set and adjust in the cutter.
Once cleaned, the knives undergo a final evaluation (with a signed inspection form for Customer review), the blade edges are covered and knives packaged for shipment. Turnaround time is 5 business days with expedited service also available.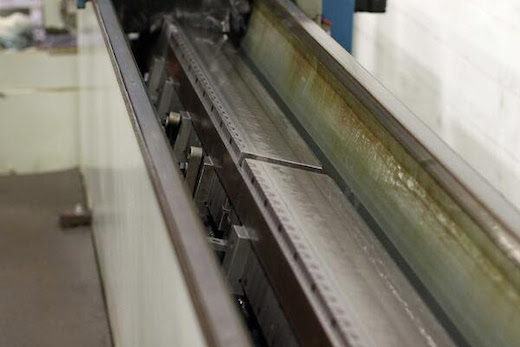 View of the Knife Grinder for sharpening sheeter cross cutting blades