A boost to productivity and tapping into new markets attributed to Mark Andy P9
St. Louis, Mo. – One of Scandinavia's leading independent label converters, LariTryck AB, has invested more than €6m at its high-tech production plants at Bjuv and Nässjö in Sweden this year and has ambitious plans for further growth in 2021.

Despite the uncertainty caused by the global pandemic, LariTryck owner Johan Ripa is claiming a 12% increase in business in the second half of 2020 and predicting even stronger growth next year. "The only issues we have experienced have been with extended lead times on raw materials, otherwise demand has held firm and shown an increase from the summer onwards – in fact, I'd describe our prospects for next year as very sunny!" he said.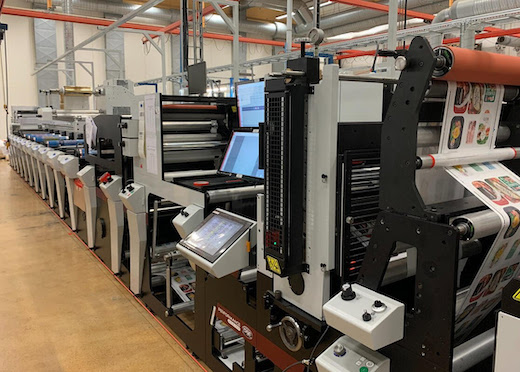 The Mark Andy P9 at LariTryck is the largest inline flexo press in Scandinavia.
This year's expenditure has been all about improving productivity, with centre stage going to a 10-color, 560mm (22 in) Mark Andy P9 press – to date the largest inline flexo press to be installed in Scandinavia, and capable of production speeds up to 300m/min (985 fpm). The Mark Andy has full UV LED curing, cold foil capability and reversible print stations, with a special hot air dryer for water-based inks and coatings. Specification also includes a heavy duty die station and Mark Andy's Advanced Waste Wind-Up.

The investment package also involves a Martin Automatic MBSF unwind/splicer and LRD rewinder fitted to an existing Mark Andy P7 press, and two further Martin MBSF units. A new rewinder and plate mounter are also included, plus a Rotoflex VLI 600 inspection finishing system will be added in January 2021. Aside from production equipment, LariTryck has also extended the Bjuv facility by 3,200sqm and invested in solar panels to supply 'green' energy as part of its ongoing commitment to environmental protection.
For more information, visit www.markandy.com.