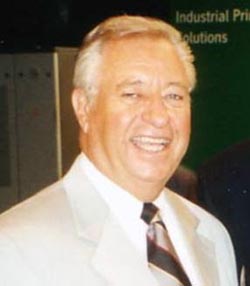 Chicago, Ill. – Fondly known in Chicago printing circles as the "Polish Prints", Stanley (Stan) J. Kukla Jr., passed away December 27, 2020, at 83. The native Chicagoan, along with his father, Stan Sr. and two brothers Fred, and Robert, founded Kukla Press, Inc. in 1964, a commercial web offset printing company in Schiller Park, IL, the success of which spanned decades.
Kukla Press, distinguished for its role in the development of the 'scratch and sniff' printing, a popular process that brought sensory and tactile properties to a burgeoning print market, expanded its business such that a move to Elk Grove Village, IL, in the mid-1970s was needed to keep pace with the growing industry. Kukla Press also pioneered advancements in in-line finishing technology, which contributed to the basis of modern inline finishing systems.
Stan was passionate about the printing business, which helped him excel in his sales responsibilities for the well-grounded printing company while his memorable personality preceded him in all his business and personal encounters. Always ready with a joke, a funny story or anecdote from his past, he characteristically showed up one evening at the Shedd Aquarium in Chicago for an annual Awards gathering of the Web Offset Association… with his own fishing pole! Stan, nonetheless, was serious about his business and cared deeply about his employees and his family.
Just as Chicago became the hub of the Midwest printing industry, personified by the concentration of printing establishments up and down Printers Row, Stan Kukla's professional life was dedicated to the future of printing and to promoting its contribution to society. He served as President of the PIA Web Offset Group and was inducted into the Printing Industries Gold Ink Awards Hall of Fame in 1992. He also was City of Hope past president, Past President of the Printing Industries of Illinois & Indiana (PII) and a member of the Chicago Litho Club.
Respectful of his Polish heritage, Stan was a member of the Polish Alliance of Chicago and proudly flew the Polish flag side by side with the American flag in front of Kukla Press Inc. He also was a board member of the Boy Scouts of America and a member of the Knights of Columbus.
Stanley J. Kukla Jr.'s legacy in the printing industry will not be forgotten. Stan's own three sons (Joe Kukla, Steve Kukla, and Greg Kukla) also continued in his footsteps by contributing to the printing industry throughout their own careers.
A visitation is scheduled for Friday January 8th from 3-7PM at Smith Corcoran Funeral Home 185 E. Northwest Hwy. Palatine, IL 60067. Funeral mass is scheduled for Saturday, January 9th, 10:30am at Holy Family Catholic Church. Registration for mass attendance is http://bit.ly/KuklaSFuneral. The mass is also to be live streamed at: www.holyfamilyparish.org.