Fremont, Calif. – The new, version 5 release of EFI™ PrintSmith™ Vision MIS software – part of the EFI Quick Print Suite of business and production management tools – delivers optimized performance and enhanced flexibility for small commercial and quick print businesses. Developed by Electronics For Imaging, Inc., the print industry's leading workflow software developer, this is the first 100% HTML version of PrintSmith Vision, replacing legacy systems based on Adobe Flash technology.

The new MIS offering can run as an EFI cloud managed solution to provide business owners with peace of mind and complete confidence knowing that business-critical customer information is secure, with maximum uptime and availability.

"We are excited about the upgrade to PrintSmith Vision 5.0," said PrintSmith Vision user Michael Price, director of IT Systems Operations for AlphaGraphics® Inc. "The benefits of a single user interface on HTML are huge. I have been using the new feature set and have been impressed with the EFI development team's response to requests and suggestions. We are looking forward to the upgrade and are ready for the changes and feature enhancements."

Optimized performance and anywhere access

PrintSmith Vision 5 has been designed and configured to provide users with premium performance. It is optimized for remote management and operation, and users can benefit from a faster screen response. New bulk management tools in the software further ensure users' ability to get more work done in less time.

New FastTrack HTML5 modules in the software give managers and operators the flexibility to manage key tasks on the go without the need for complex cross-training. PrintSmith Vision 5 also enables end-to-end job tracking and automatic notifications to reduce or eliminate the need to spend time finding job statuses and answering customer inquiries.

As part of the end-to-end, integrated EFI Quick Print Suite, PrintSmith Vision 5 also features premium connectivity to EFI MarketDirect StoreFront software, giving users the productivity advantage of automated processing for web-to-print orders. Print shops can further reduce touch points in managing incoming work, significantly reducing the potential for errors.

Integrated one-click shipping with ShipExpress

A new module for PrintSmith Vision and the Quick Print Suite, PrintSmith Vision ShipExpress, streamlines shipping and makes shipping and delivery more cost effective. ShipExpress's multi-carrier support capabilities give users the ability to quickly and easily find the best rates for parcel handling, with the ability to consolidate production of packing slips and labels in one simple step.

One EFI customer using PrintSmith Vision with ShipExpress, Randy Blum, receiving and mailing manager for Omaha, Neb.-based Regal Printing Company, has achieved cost savings thanks to the software's ability to consolidate most of the company's shipping tasks into a single solution.

"In the past, we subscribed to a number of different services for shipping and mailing," said Blum, "each with its own monthly costs and software interface. Being able to do everything from a single interface not only simplified operations, but it also saved us about $2,000 per year in those monthly fees and supplies."

Printing and packaging professionals across the globe rely on EFI's portfolio of workflow products to manage their businesses and become more streamlined, efficient, informed and profitable. For more information about PrintSmith Vision 5 and other products and services from EFI, visit www.efi.com.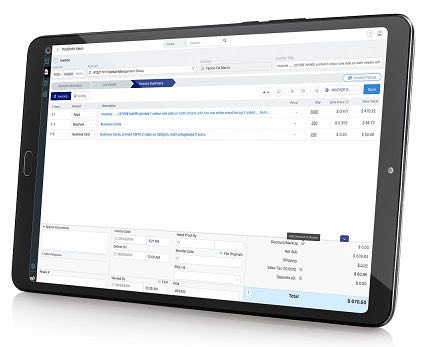 EFI's new PrintSmith Vision 5 MIS software is optimized for remote management and operation, delivering better performance and enhanced flexibility for small commercial and quick print businesses.